Down GAA Clubs Draw 2022
---
---

The Clubs Draw facilitated by Down GAA, began in 2012 has been a major success for the County and the Clubs of Down.
In the 10 years of the draw a total of over £7.02 million has been raised, with over £4.68 million going to the Clubs of Down, with the County Board raising £1.18 million. A total of £1.1 million has been paid out in prizes, and with an Annual Prize Fund of £110,000, the draw allows Down GAA Clubs to host a major fundraising draw without the individual worry of providing a major Prize Fund.

TOTAL PRIZE FUND:
£110,000
12 MONTHLY DRAWS: with 5 Prizes of £1,000 to be won per month

2 SUPER DRAWS: 25th September 2022 & 25th March 2023 - 1 Prize of £5,000, 5 prizes of £2,000, and 5 prizes of £1,000
SPECIAL CLUB DRAW: Every Club guaranteed a £200 winner in our Special Club Draw
SPECIAL DRAW FOR FULLY PAID UP MEMBERS: Special Draw for Patrons who pay £120.00 in full before draw commences: 5 PRIZES OF £200.00

First Draw: 25th April 2022
 
Ticket Price £120.00
or if paying by D.D. (can only be set up via the Club) £10.00 per month commencing on 18/04/2022 and monthly thereafter on the 3rd of each month
 
TO BUY YOUR TICKET, TO SUPPORT YOUR CLUB AND TO SUPPORT DOWN GAA - Please use the link below to buy the ticket via KlubFunder.  Once you have purchased the ticket within a couple of days we will email you a copy of your Ticket and your unique Ticket Number.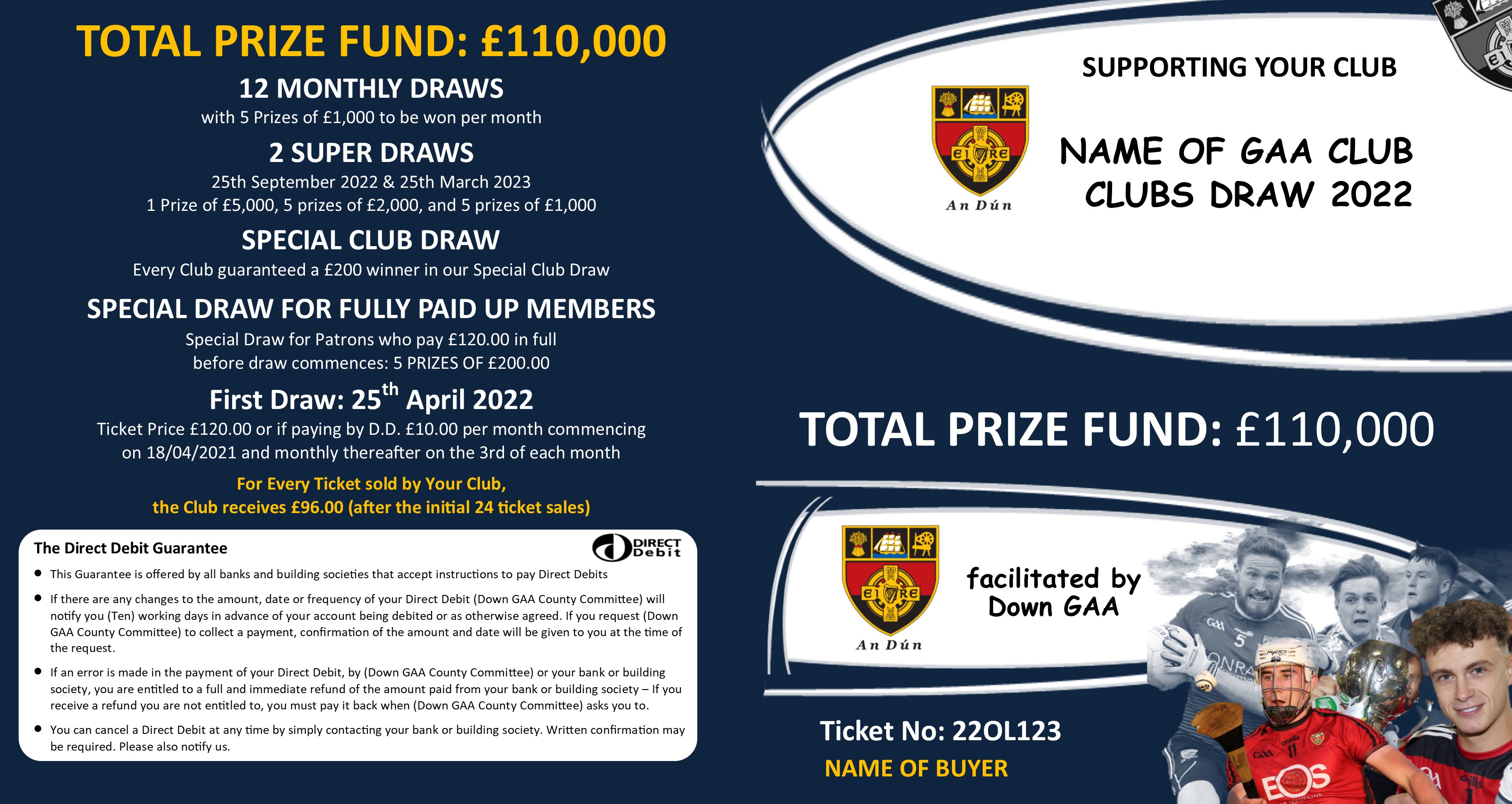 ---