2019 Down County Dinner - Friday 1st November
Friday 27th September 2019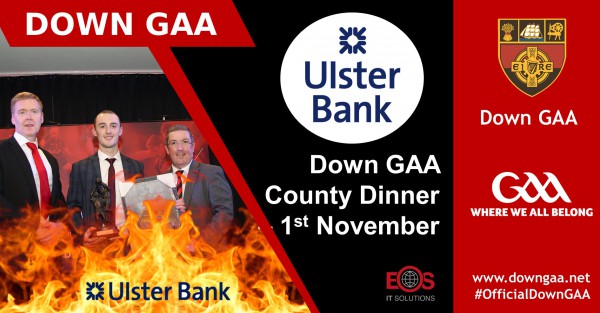 On November 1st we will host the County Dinner in the Canal Court Hotel Newry.
The guests of honour will be the players and Management of our All Ireland winning team of 1994. The Dinner gives everyone in the County the opportunity to salute the achievements of the men of 1994 who Twenty Five years ago brought the Sam Maguire and Anglo Celt back to the County. You will have the opportunity to relive the stories of 1994 on the night and see footage of some of the games of that year as we make a presentation to the players and management. We will also be joined by players who were opponents along the way in 94 and we look forward to a special night.
On the night too we will acknowledge the outstanding Club and County players of 2019 in football and hurling as once again Ulster Bank sponsor the Down GAA Club Awards. We will announce too the referee of the year as well as the Hall of Fame and Club of the Year, all in association with Ulster Bank. In 1994 Ulster Bank were the Team Sponsors of Down GAA and we are particularly delighted that twenty five years on they partner us again, this time as sponsors of our Club Awards.
This is a night for the Gaels of Down to come together, to acknowledge our heroes of 1994 and to pay tribute to the next generation of Club and County players. This is the Down GAA night of the Year.
Tables of 10 are £350.00 or Tickets or £40.00 each and already a number of tables have been reserved. To ensure that your Club is represented on the night please contact any of the County Officers or the County Office directly.