Allianz FL Division 2 round 4: Down overcome Derry
Sunday 5th March 2017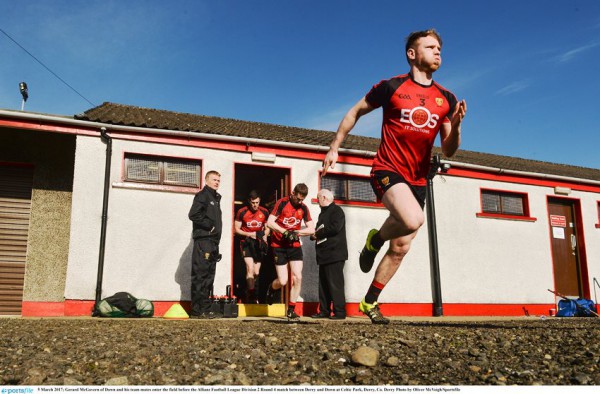 Alliaz FL Division 2 round 4
Down 1-15
Derry 1-7
A splendid first-half performance saw Down chalk up their second win in Division 2 this afternoon at Derry's expense.
Ryan Johnston's goal in the 22nd minute at Celtic Park saw Eamonn Burns' side move 1-9 to nothing in front as the hosts had been out of sorts for the entire first quarter and then some.
Emmett McGuckin grabbed Derry a badly required goal before half-time but the damage had been done and Down were able to strode home in the second-half for their second league win in 22 months.
The visitors had it all their own way in for the opening 25 minutes of this contest, with Barry O'Hagan opening the scoring for them from the throw-in and Caolan Mooney adding two long range points to have them three up after nine minutes.
Darragh O'Hanlon and O'Hagan added to the Mourne men's advantage and Derry's response was nowhere to be seen, as O'Hagan, Joe Murphy and Conor Maginn kept Down motoring with points and a Johnston goal arguably had the points in the bag with 13 minutes still to go before half-time.
Conor McAtamney ended the woeful run for the Oak Leafers four minutes later and a sorely needed goal at the same ended arrived off the back of some brilliant work from Ryan Bell, who sent Emmett McGuckin through for the onion bag.
McGuckin quickly added a point in injury-time but there was still enough time for an O'Hanlon free to cancel it out as Down took in a commanding 1-11 to 1-3 advantage.
Two more placed balls from O'Hanlon put the visitors' lead back at double figures early in the second-half and they'd also have a Michael Cunningham goal ruled out for a square ball during that period.
Derry eventual got a run of scores from Benny Heron, James Kielt (free) and Mark Craig to take a bit of tarnish off the board, but the game was well out of their reach by this stage.
Mooney and McGuckin swapped points late on as Down coasted to their second win of the campaign in impressive fashion.
Other results from the division
Kildare 4-14 Fermanagh 0-14
Clare 2-11 Cork 0-09
Meath 1-13 Galway 0-15