An Riocht club notes - 04 September 2017
Monday 4th September 2017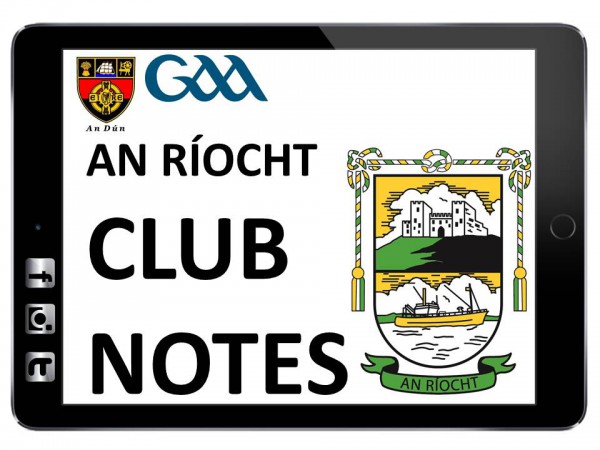 An Riocht club notes - 04 September 2017
AN RIOCHT / KINGDOM 
Tuesday 6th
6pm Irish Dancing; 7pm Homework Club; 7.15pm Bootcamp.
Wednesday 7th 
11am Men's Shed; 6pm Ladies Circuits; 6.30pm U13 Football; 7.30pm Football committee monthly meeting; 7pm P1/P2 & P3/P4 Indoor Camogie; 7.30pm Kingdom Walkers; 8pm U12 Indoor Camogie
Thursday 8th 
6.30pm first night of six Fantasy Funland activities programme for 4 to 8 years; 6.30pm P5/P6 Football; 6.45pm U12 Football; 7pm Girls Night aged 8 to 12years; 7.15pm Bootcamp; 6.45pm U16 'A'FC Warrenpoint v An Riocht; 7.30pm U16 Camogie; 8pm Basketball 
Friday 9th 
11am Men's Shed; 7pm Senior Football An Riocht v Bryansford
Saturday 10th 
Kilmacud Camogie Sevens; 8am Kingdom Walkers; 9am P3/P4 Football Tournament in Rostrevor; 10am Free Líofa Intensive Irish Language workshop, lunch provided, tel 02843768784; 11am P1/P2 Football; 12pm U12 Camogie Ballyholland v An Riocht 
Sunday 11th
10.30am Breakfast at Dunavil; 11am U12 Football An Riocht v Burren; 8pm Bingo
Monday 12th 
11am Men's Shed; 6.30pm P5/P6 Indoor Camogie; 9pm Lotto
Tuesday 13th 
6pm Irish Dancing; 7pm Homework Club; 7.15pm Bootcamp. 
An Riocht lost to Ballyholland in the U14 Camogie championship 1-13 to 6-7
The U18 footballers lost in the 'B'FC in Tullylish 4-8 to 2-6
In the U16 'A'FC at Dunavil An Riocht pipped Tullylish 0-18 to 3-7; scorers: E Sloan 0-11 (2x45, 5f), C Flanagan 0-3, C Campbell 0-2, A Gribben 0-2. Highlights included a great Curtis Flanagan save with his foot, a Christopher Flanagan point with his left after soloing in with his right, back to back 45 points from Eoin Sloan, a Michael Greenan clearance off the line, and a strong finish with four unanswered points to turn a two-point defeat into a two point win.
An Riocht had two teams, Ogs and Gaels, in the Carrickcruppen P5/P6 tournament at the weekend and played matches with Crossmaglen, Carrickcruppen, Shamrocks, Bosco, Culloville, Ballyholland and Whitecross before playing each other in semi-final of the Shield which the Gaels won 1-07 to 1-02 with Matthew Speers playing his best football of the year for the Ogs. The Gaels went on to meet Bosco which they lost 0-04 to 0-01 in a very tight game. Ogs: Cameron Rodgers, Logan Rooney, Dylan Marsh, Lucas Dicius, James McComiskey Mathew Speers, Conor Collins, Marcus Sidluskass, Zac Shepcar, Caiden McVeigh, Cormac McConville, Jack Killen. Gaels: Paul O'Rourke, Ethan Finnegan, Shea Rafferty, Conor Kelly, Luke Quinn, Deagan Cordell, Rory McRann, Daniel O'Sullivan, Michael Shields, Declan Fearon, Sean Small, Ryan Campbell.
An Riocht Health & Wellbeing Officer Barney McCartan and Club Chairperson Tara Campbell attended the Ulster GAA Volunteering Forum 'Stay in the Game – Promoting lifelong wellbeing through sport' at the Athletic Grounds, Armagh.
An Riocht Club Secretary attended the Big Lotto Roadshow at the Nautilus Centre on Friday
An Riocht have been invited to take part in the international Feile Peile na nOg (boys u14 football) from Friday 15th June to Sunday 17th June 2018. There will be training starting on Wednesday 6th September from 6.30pm to 7.30pm for the new U13 football competition which will in essence be the U14 team for Feile.
An Riocht Annual Dinner Awards will take place on Saturday 18th November at the Canal Court Hotel.
An Riocht Down Draw August Winners £50 each to Tracy Rafferty and An Riocht GAC
In U16 Camogie, An Riocht beat Drumaness 9-9 to 4-1. The league is now over; having lost only once, way back on 11th April, if the girls put the effort in we could have a good Championship run. The Championship begins on Saturday 16th September in Atticall.
The U12 footballers won in Banbridge 3-10 to 2-8 and drew in Shamrocks 1-9 to 2-6.
Any club member wanting included in a draw for an All-Ireland Football Final ticket must give in their name before Sunday 10th September
Good luck and well done to Ronan McAlinden who will referee the South Down 'A' U14 Championship Final in Hilltown.
At the Carmel Doran Camogie 7s & Joe Donnan Football 7s for recreational players on Saturday there were some memorable performances from the stars of yesteryear; indeed, the camogs included multiple Ulster and Down Championship winners and both codes had An Riocht All Stars recipients playing. 
Camogie winners were Eilish Curran, Orla Baldwin, Michelle Allen, Teresa White, Aishling Clarke, Jane Eakins, Eleanor Flanagan.
Camogie runners-up were Sheila McAlinden, Kathy Trainor, Christine Morgan, Christina Donnelly, Maura Trainor, Teresa McVeigh, Kathleen Anne Sloan, Patricia Clarke
Football winners: Deaglan O'Reilly, Thomas Sloan, Barry Annett, Chris Morgan, Ryan McMillan, Sean Clarke, Jim Sloan, Stephen Flanagan
Football runners-up Paul Murney, Jerry Lee Cordell, Paddy Cordell, Colin Cole, Conor Fitzpatrick, Conrad McAlinden, Darren Doyle, Chris Killen
Thanks to everyone for taking part and those who organised the teams and helped prepare the food.
Also on Saturday the Cow Pat Challenge took place with Dolly the Cow attracting a good crowd to Dunavil. The lucky £1,000 winner was John McAleenan, with £50 'splatter square' prizes to each of Tyler Shepcar, Caitlin Cahill, Kevin Cunningham, Cara Cunningham, Rosetta Trainor, Eleanor Flanagan, Caitlin Cahill and Margo Cunningham. Again, thanks to those who prepared the ground and sold the tickets or helped in any way.
Due to the response, we received about a homework club including the feedback from many parents, we are happy to announce that our first club will be on Tuesday 5th September and will run from 7pm to 8.30pm for primary school age pupils.