An Riocht club notes - 09 May 2017
Tuesday 9th May 2017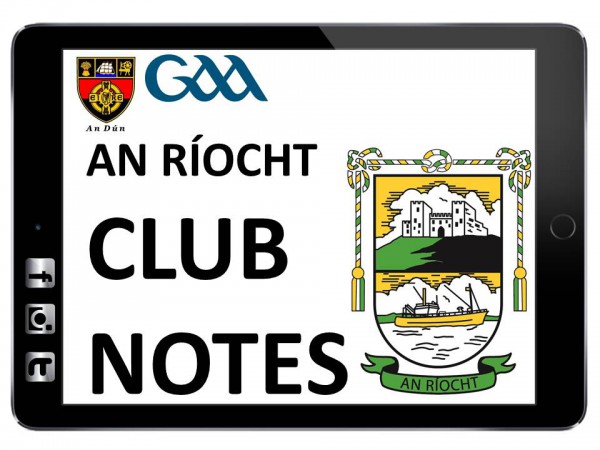 An Riocht club notes - 09 May 2017
Tuesday 9 May
2.45pm Coaching at Grange PS; 6pm Irish Dancing; 6.30pm P1/P2 and P3/P4 Camogie practice; Boot Camp; 7.30pm P5/P6 and U12 Camogie practice; 7.30pm U18 Football Glenn v An Riocht; Spanish Lessons.
Wednesday 10 May
11am Men's Shed; 6pm Ladies Circuits; 6.30pm U14 Football practice; 7.30pm Junior Camogie Atticall v An Riocht; 7.30pm U12 Camogie An Riocht v Shamrocks; 7.30pm Senior/Minor Camogie practice; 7.30pm Senior/Reserve Football practice.
Thursday 11 May
Mens Shed trip to Atticall Golden Club; 6.30pm P5/P6 Football practice; 6.45pm U12 Football practice; 6.45pm U14 Camogie practice; 7pm Girls Activities aged 8 to 11 with Aedin; 7pm Boot Camp; 7.30pm U16 Camogie practice; 7.30pm U16 Football Saval v An Riocht.
Friday 12 May
11am Men's Shed; 7pm Kids Cinema; 7.30pm Senior Football Bryansford v An Riocht; 7.30pm Senior/Junior Camogie practice
Saturday 13 May
10am P3/P4 Football Blitz; 11am P1/P2 Football; 12pm U12 Camogie Liatroim v An Riocht; 3pm Birthday Party.
Sunday 14 May
10.30am Breakfast @ Dunavil; 11am U12 Football An Riocht v Burren; 2pm Reserve Football Clonduff v An Riocht; 8pm Bingo
Monday 15 May
11am Men's Shed; 2pm Coaching at Gaelscoil na mBeann; 7.30pm Senior Camogie An Riocht v Castlewellan; 9pm Lotto
Tuesday 16 May
2.45pm Coaching at Grange PS; 6pm Irish Dancing; 7.15pm Boot Camp; Spanish Lessons; 7.30pm U18 Football An Riocht v Clann Na Banna; 7.30pm U18 Camogie Mayobridge v An Riocht; 7.30pm U14 Camogie An Riocht v Clonduff
The U14 Footballers lost in Warrenpoint 4-16 to 3-6. 
The Senior Camogie An Riocht v Portaferry was postponed by the County Board, the second Senior Camogie fixture to go this way out of the four scheduled to date; not the best promotion of the game.
The U14 Camogs lost in Kilcoo.
The U18 Footballers had no game as Bosco failed to field, so for the second week in a row we had no match, Mitchels didn't field last Tuesday.
The U18 Camogs beat Liatroim in their first league match of the season after two walk-overs in their first two fixtures.
Dromara failed to field for the Junior Camogie match with An Riocht, our third walk over in three days and the second for this team, 50% of their scheduled games conceded without a ball pucked.
The U12 Camogie match with Shamrocks was cancelled by the County Board to accommodate a new set of fixtures caused by late entries from teams that could not be bothered to take part in the pre-season blitzes.
At the Brian O'Hare Cup U12 Football 9-a-side tournament at Dunavil 32 teams from 10 different counties played 78 games on 8 pitches over a five-hour period before Bellaghy beat Magherafelt in the Cup Final and An Riocht beat Bellaghy 'A' in the Shield Final. Thanks to all the teams for their co-operation in the run up to the tournament and on the day; also thanks to the An Riocht volunteers who manned the car park, keep the road clear, worked in the kitchen, took almost 200 photographs, who refereed and co-ordinated the games, and who helped with the tidy-up afterwards.
At the Brian O'Hare Cup An Riocht U12 footballers played games with Saint Brigids, Shane O'Neills, Coralstown-Kinnegan, Eire Og, St Peters Lurgan, Killeavy and Bellaghy.
At the Camogie Blitzes on Saturday in Mayobridge, An Riocht's youngest Camogs enjoyed matches with Mayobridge, Darragh Cross, Kilcoo, Aghaderg, Ballycran and Bredagh resplendent in their Eoghan Sheehan and Subway sponsored tops..
A large group from the club took part in the 'Darkness into Light' event at Rostrevor on Saturday morning, well done everyone.
An Riocht La Na gClub events took place on Saturday when a cherry blossom tree was planted at Conal's Ball Wall and there were all the usual activities like poc fada, penalty kicks, a parade around the grounds, music, a section as Gaeilge and fun and games for the young people attending.
In the Reserve Football An Riocht v Rostrevor, the visitors had five points to spare on a score line of 1-13 to 1-8 at a sun soaked Dunavil. An Riocht missed numerous goal chances and that beat them in the end, Reds being more efficient in front of the posts. Michael Harper and Adam White came close to early goals as Rostrevor went four one clear before points from Michael Harper and Deaglan Morgan made it a one point game. Rostrevor had a good finish to the half with five unanswered points and could have had a goal but for a Michael Clarke block. On the restart An Riocht got the goal they had threatened when Adam White, Conor Cole and Michael Harper combined to free Aidan Sloan who burst through to collect the ball and shoot to the net. Rostrevor replied with their goal almost immediately and hit the next three points to go nine clear. Entering the final ten minutes An Riocht came good again with Adam White shooting three points and substitute Aidan O'Hanlon another but two further clear goal chances were not taken and at the finish Reds had held on for the win.
Team: T Sloan, R Clarke, S Corr, J McCartan, A Sloan, L Rodgers, D Mathews, C Cole 0-2, B Sloan, P McComiskey, D Morgan 0-1 (f), M Clarke, A White 0-3, M Harper 0-1, N McComiskey. Sub: A O'Hanlon 0-1.
The Senior Footballers lost by two on Friday; a few mistakes at the back and failure to take enough scores up front combined to deprive us of the win that our general play deserved.
Efforts are 'afoot' by An Riocht Health & Wellbeing Officer Barney McCartan to start a Walking Club at Dunavil; if interested contact Barney 07871511369 or the Office 02841763681 to register your interest before Friday 19th May.
Raffle tickets are on sale at the Club for 4 All Ireland Football and 4 All Ireland Hurling tickets and overnight accommodation, other prizes include dinner, bed and breakfast at Templegate Hotel Clare and at Hotel Westport Mayo. The ticket also guarantees admission to Down GAA 'Night At The Dogs' in Dundalk on Saturday 20th May.
Any Club Member or Sponsor requiring a ticket for Down v Armagh on 4th June should give their name in asap and before 15th May for inclusion in a draw as demand is sure to surpass availability of tickets.
Cowpat squares are available from the club or committee members, have you seen the video yet?
Thanks to the men who turned up on Sunday morning to reinstate the ball stop post and net which had come down in an earlier storm.
A couple of vacancies have arisen on the Cleaning Crews, if you want to help let us know.
The Youth Club staff are interested in running a weekly program for ages four to seven years for both boys and girls providing there is enough interest. This will consist of play doh making, arts and crafts, games and baking to name a few. Anyone interested in this can you please let us know a day/time that suits, can be afternoon or evenings! If there is enough interest, we can agree on a day/time that suits everyone, we are aiming to start this within the next few weeks if there is enough interest.
The Kingdom Men's Shed are going to Derry on Thursday 29th June, staying overnight at the City Hotel and visiting Derry Men's Shed and the Seamus Heaney HomePlace in Bellaghy before calling into the Old Bushmills Distillery on the way home. There are a couple of places available for fledgling Shedders so if it's something that might interest you call out to the Shed any Monday, Wednesday or Friday for more information.
Well done to Orlaith Preece, our newest graduate from the Kingdom Camogie Academy, Orlaith is pictured in her 'Subway' jersey. Academy Coaching continues on Tuesdays from 6.30pm and all are welcome.
There will be another Club Clean-up Day on Saturday 17th June.
More help is urgently required on Tuesdays from 6.30pm to 7.30pm to assist Club coaches with P1/P2 and P3/P4 Camogie practice. Parents have a very important role to play, we would encourage parents to participate while their children are playing our games, this will encourage them to keep coming back. Also, players over 14 years old, this includes adult players, can help with these age groups under the supervision of Club coaches. There are seven Camogs regularly helping with teams, there should be more!
Congratulations to Cerys Clarke, Lauren Clarke and Aoife McDowell with the Down Minor Camogs who beat Armagh on Sunday in the Ulster Championship.
The Jim Mulholland Cup, Shield & Plate 11-a-side P5/P6 Football Tournament takes place at An Riocht on Saturday 20th May. Nine groups of five teams will play a round robin before splitting into Cup, Shield and Plate competition; everyone gets four group games and at least one knock-out game. The first games throw in at 10.30am, there will be 9 pitches in use; it is important to get off to a prompt start for the tournament to run to schedule. 
Group A: Teconnaught (Down), Silverbridge Harps (Armagh), Magherafelt O'Donovan Rossa (Derry), Cookstown Fr Rocks 'B' (Tyrone), Naomh Colmcille (Meath)
Group B: Shane O'Neills (Armagh), An Riocht 'A' (Down), Clann Eireann Lurgan (Armagh), St Johns (Antrim), Celbridge (Kildare)
Group C: St Peters Lurgan (Armagh), Aughlisnafin (Down), Patrick Sarsfields (Antrim), Naomh Colmcille 'B' (Meath), Carrickcruppen (Armagh)
Group D: Redmond O'Hanlons (Armagh), Cumann Peadar Naofa 'A' (Down), Kickhams Creggan (Antrim), Naomh Colmcille 'A' (Meath), Armagh Harps (Armagh)
Group E: Keady Dwyers (Armagh), Magherafelt O'Donovan Rossa 'A' (Derry), Con Magees Glenravel (Antrim), Ratoath (Meath), Newry Bosco (Down)
Group F: Keady Dwyers 'A' (Armagh), Cookstown Fr Rocks (Tyrone), St Brigids (Antrim), Mullahoran (Cavan), Silverbridge 'A' (Armagh)
Group G: Culloville Blues (Armagh), Saul (Down), Cookstown Fr Rocks 'A' (Tyrone), Michael Davits (Antrim), Celbridge 'A' (Kildare)
Group H: Crossmaglen Rangers 'A' (Armagh), Buncrana (Donegal), An Riocht (Down), Bellaghy Wolftones (Derry), Skyrne (Meath)
Group K: Cumann Peadar Naofa (Down), Trillick (Tyrone), St Johns 'A' (Antrim), Crossmaglen Rangers (Armagh), Donaghmoyne (Monaghan). 
An Riocht April Down Draw Winners £50 each James Colgan and Seamus Donnan