An Riocht club notes - 18 April 2017
Tuesday 18th April 2017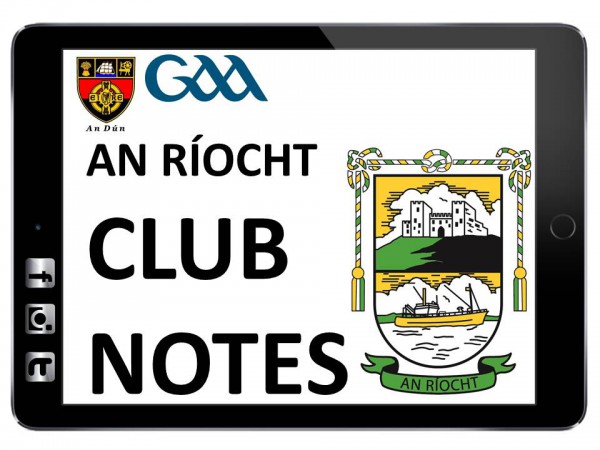 An Riocht club notes - 18 April 2017
Tuesday 18th April 
2pm U14 Camogie An Riocht v Mayobridge, all girls please be at the club 1pm; 6.30pm P1/P2 and P3/P4 Camogs practice; 7.30pm P5/P6 and U12 Camogs practice; 7pm U18 Football An Riocht v Tullylish; 7pm FIFA Tournament.
Wednesday 19 April
11am Men's Shed; 6.30pm U14 Football practice; 7pm Junior Camogie An Riocht v Drumaness; 7pm Kingdom Youth Club Relationships & Development programme for young people aged 13+; 7.30pm Senior/Minor Camogs practice; 7.30pm Senior/Reserve Football practice; 8.15pm (immediately after Junior Camogie match) Meeting to organise La Na gClubanna on 6th/7th May, everyone who has ideas or wants to help please attend. 
Thursday 20th April 
6.30pm P5/P6 Football practice; 6.45pm U12 Football practice; 6.45pm U14 Camogs practice; 7.30pm U16 Camogs practice; 7.15pm U16 Football Bosco v An Riocht
Friday 21st April 
7pm Kids Cinema; 715pm Senior Football Glenn v An Riocht; 7.30pm Senior/Junior Camogs practice
Saturday 22nd April 
Croke Park Activity Day for U12 Footballers; 10am to 2pm Coffee Morning & Cake Sale in aid of Camogie funds; offers of home baking appreciated. All adult players, parents of underage players and supporters please call in; 10am P5/P6 Football Blitz @ Dunavil; 11am P1/P2 Footballers practice; 12pm P3/P4 Footballers practice; 6pm Basketball Playoff.
Sunday 23rd April
10.30am Breakfast @ Dunavil; 11am U12 Football An Riocht v Shamrocks; 2pm Reserve Football An Riocht v Carryduff; 8pm Bingo @ Dunavil.
Monday 24th April
11am Men's Shed; 7.15pm U14 Football An Riocht v Longstone; 7.15pm Senior Camogie Bredagh v An Riocht; 8pm An Riocht Executive committee meeting; 9pm Lotto
Tuesday 25th April
6pm Irish Dancing; 7pm U16 Camogie An Riocht v Clonduff; 7.15pm U18 Football Mitchels v An Riocht; 7pm Spanish lessons.
Grange PS pupils enjoyed an Easter trip to the Kingdom cinema on Wednesday past. 
Thanks to the 20 volunteers who helped with the tidy up at Dunavil on Saturday.
Thanks to everyone who supported the Easter Fundraiser in aid of Glen Graham Appeal
The Easter activities for kids went well with dozens of little eggs discovered on the Easter Egg hunt and paper maché eggs made and decorated as well as rabbit cookies.
The U14 footballers were in Burren where they found the locals much too strong.
The U18 footballers made the short journey to Atticall but came home pointless suffering a heavy defeat after a bright start. Scorers: Paddy McComiskey 2-0, Eoin Sloan 0-4, Rory Quinn 0-1, Conor Clarke 0-1.
The U16 footballers played Tullylish at Dunavil coming out victors 4-17 to 1-12 having played some good football and shot some fine scores with all fifteen players getting game time. There was only a goal in it at the break, An Riocht leading 2-6 to 1-6 before stepping it up in the third quarter adding 1-7 before Tullylish scored but by then the gap was already too big for the visitors.
The Senior Camogs began their season in Ballyholland with a 2-11 to 1-3 success. Ahead by a goal at the break, 2-2 to 1-5, An Riocht took out on the restart outscoring the home side nine points to one. Scorers: Aine Fearon 0-8, Colleen Fearon 1-1, Sinead O'Rourke 1-0, Aoife McDowell 0-1, Carrie Killen 0-1. 
However, the second match at home to Ballygalget was pulled due to a shortage of referees, hard to build momentum in these circumstances.
The Junior Camogs match away to Darragh Cross was postponed as Darragh could not field.
The U16 Camogs lost by seven points in Liatroim.
The U12 Camogs participated in their second blitz in Ballygalget winning two of their three games, well done.
There is a big push on now to complete the 'Cow Pat' squares, anyone who can help part fill a sheet should collect one and part fill it before returning it for someone else to fully complete.