Aughlisnafin club notes - 18 April 2017
Tuesday 18th April 2017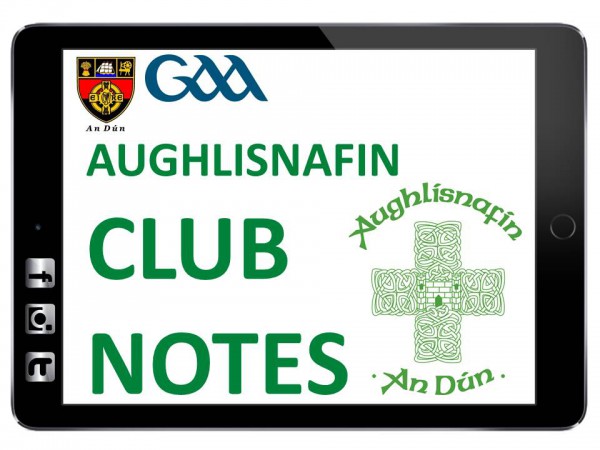 Aughlisnafin club notes - 18 April 2017
*Baile an Locha minors met Drumaness on Tuesday evening at Pairc an Baile Anna. Both teams recorded opening game victories the previous week and a win would see them top the league after match day 2..
The Loch played a very attacking brand of football which was easy on the eye and they were rewarded with a healthy 6-14 to 2-4 interval lead with Lundy (2), Croskery, Burns, R McMullan and Magorrian all getting the majors, with one of Lundy's efforts expertly dispatched from the penalty spot. Noade, Quinn, Gilmore, Flanagan and Croskery sharing the points tally in the first half. The downfield wind was a telling factor in the first period.
The second half saw the Loch outscore the visitors 2-10 to 1-3 with Noade grabbing a brace and the points came from Burns, Noade, R McMullan, Flanagan, Croskery and Gilmore. The Drumaness keeper also doing well to deny Croskery, McMullan and Noade adding to their tally. Drumaness will rue missed opportunties for scores including a second half penalty which McCann did well to save.
Nine of the starting thirteen got on to the score sheet over the hour. There were several top drawer performances with team captain Tiernan Noade leading by example. In the final quarter of the game five subs entered the fray to help see out what was a comfortable win in the end. Next game is away to Castlewellan.
*The U16s made it three wins from three games with another great performance at home to Saul. S Croskery (4), Crawford (2), Murphy (2) and Robb (2) got the goals while the points came from Matthews (3), S Croskery (2) and Walsh. M Croskery was superb again in nets and great defensive effort from Lenaghan, Flanagan, Ogle and Steen. Next game is away to Darragh Cross.
*The U14's were short on fire power for the short trip to Dundrum for the 'Kilmegan Road Derby'. Calum Lyttle and fellow U12's player Dualta Pickering both making their first starts above their own grade to help fulfil the fixture. It was also great to see Jack Keenan back in the Fin colours having not played since the 2015 league final victory. All three scored a combined 2-03 on the night but it was not enough to win the game against a spirited Dundrum side who grabbed two late goals to win an enthralling game by the minimum.
The 'Fin led by 1-11 to 1-06 at half time before goals from Keenan and Owen O'Neill had them 3-13 to 2-11 in front but a Dundrum smash and grab act saw them plunder the two goals they needed to win. With five U12s players involved in the long trek up to play St Pauls the day before they basically just ran out of steam in the end and despite a heroic effort from everyone it was a second one point reverse in three games. Next game is at home to St Johns on Monday 24th April.
Aughlisnafin: O Maguire, A Quinn (0-1), C McCann, N Dornan, M Quinn (0-1), P O'Hare (0-3), R Clarke (0-3), O O'Neill (1-2), C Lyttle (1-1), J Keenan (1-0), D Pickering (0-2) Sub: K McComiskey for N Dornan at h/t. Well done lads. Next game is at home to St John's on Monday 24th April.
With a mounting injury list the club decided not to attend the Féile on Easter Monday and hopefully everyone can get back to full tilt in time for the next league game. Also best wishes to Donnacha Murphy who is recovering from a leg break sustained several weeks ago and we hope to see him back on the pitch again very soon.
*The club will be represented by Kevin McComiskey, Anthony Quinn, Niall Dornan and Conor Walsh at the U12's Activity Day in Croke Park this Saturday.
*Training for U8.5's, U10.5's, U12's in Annsborough this Wednesday at 6.30 pm.
*Upcoming league fixtures U16's v Darragh Cross away this Thursday at 7.15 pm; U12's v St John's this Sunday at 11 am; U14's v St John's at home Monday 24th April at 7.30 pm; Baile An Locha minors v St Paul's at St Johns pitch next Tuesday 25th April at 7.30 pm.
*Lotto numbers last week were 3, 4, 6, 19. No winners. Jackpot £2,350. Lotto can now be played on-line. Please visit our club website or facebook page for the klubfunder link.
*There will be a big brunch held in Annsborough Social Club on Sunday 30th April at 11.30 am. Everyone welcome.
*The slots are filling fast for this years Fin Fun Mud Run. You can go online to www.finfunmudrun.com or visit our facebook page to book.