Clonduff Club Notes – Sunday 23rd September 2018
Monday 24th September 2018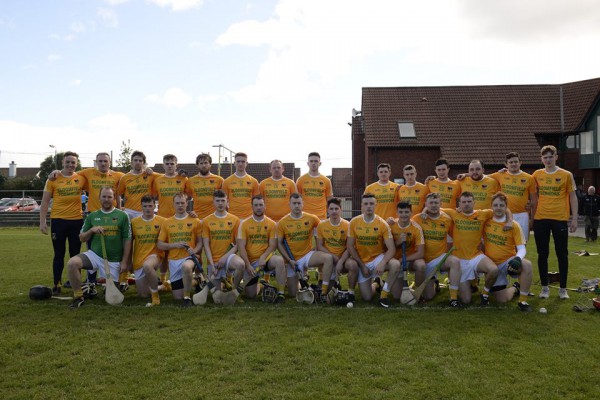 Clonduff Club Notes – Sunday 23rd September 2018
CLONDUFF ARE CROWNED JUNIO HURLING CHAMPIONS for 2018
clonduff Hurlers put the heartache of last year's championship defeat to bed on Sunday afternoon in St. Patrick's Park, Newcastle, to run out Junior Hurling Champions for 2018.
Playing with the wind, Newry Shamrocks were first to settle any championship nerves finding themselves first on the scoreboard and into an early lead. Clonduff were soon to follower, however, and right from the off this looked to be set for an enthralling encounter between the two sides.
Despite some great defence work from the yellas, Shamrocks chipped away at their points and quickly went two points ahead, domineering the field of play. Shamrocks had now found great momentum and seized the opportunity of a free, rattling the back of the net to put four points between the teams on a score-line of 1-03 to 2 points. Clonduff however benefited from previous experience of a championship final and with a score from Rían Branagan began to build momentum of their own. The Clonduff defence picked up pace and Shamrocks began to struggle on the attack while at the other end of the field, Clonduff took every scoring opportunity that came their way with some fantastic frees taken by Christopher Young. Shamrocks once again came at the Clonduff defence but a phenomenal catch from Patrick Branagan prevented any score and the line was cleared by Shea Murnin who then earned a free for Clonduff, which, with great team work, resulted in a Clonduff score bringing the sides level in the 33rd minute. In a quick and fiery attempt to grab the lead back, Shamrocks raced up the pitch with their aim on goal, however Niall Quinn did well to clear the line as the half-time whistle blew leaving  the sides all square 1-3 to 6 points going into the dressing room.
The Clonduff side received a mighty welcome back on to the pitch from their supporters which seemed to spur them on as they got off to a fast paced start to the second half with Christopher Young sticking the ball over the bar.
This was certainly a game that was not going to be easily won and despite edging a two point led early in the second half, Clonduff conceded a second goal which gave Shamrocks the advantage, the scoreboard read 2-9 to 10 points. But this was to be Clonduff's day and they soon saw the net themselves as Shane Murray scored a goal to regain their two point lead. Clonduff never looked back and despite Shamrocks levelling the scores again, the yellas looked in control of the game. A long range free taken by Shamrocks left the Clonduff support on the edge of their seats as it looked to have gone over the head of goalkeeper Niall Quinn, however, this was simply an illusion and as the ball made its way back up the field the cheers echoed the stand in St. Patricks Park- an exciting, closing 10 minutes were guaranteed! Both teams made the most of scoring opportunities as well as frees awarded and as the scores stood at 1-13 to 2-9 Clonduff were awarded a side-line ball. John Murphy stood up to the line giving the ball a mighty hit as it travelled up the pitch going wide, however, it did not matter as the Shamrocks goalkeeper hit the ball, the final whistle blew.  The Clonduff supporters were elated as they made their way onto the pitch to congratulate their players. In a cracking game for any neutral, Clonduff ran out victors by a single point.
Final Score: Clonduff  1-13  v Newry Shamrocks  2-09.
Sean Downey the Clonduff captain stepped up to receive the Junior Hurling Cup from the county chairman Sean Rooney. But before any celebrations, Sean gave an emotional but very fitting tribute, not only speaking highly of his team mates and management but remembering their brother Peárce Branagan who had tragically passed away in June this year. Sean believes that Peárce played an intrical role in their championship victory and with this in mind invited Peárce's girlfriend Ellen McCrilly to help him lift the cup in Peárce's honour!        
Clonduff Team: Niall Quinn, Declan Rooney, Sean Downey, Lorcan Branagan, Paddy Branagan, John Murphy, Jamie Lynch, Chrissy Young, Shay Murnin, Fionnbharr Murphy, Rhys Ward, Darragh Downey, Mark Downey, Shane Murray, Rian Branagan, Liam Mc Parlan, Ryan Jackson, Danny Nugent, Gavin O'Hagan, Chrissy Lynch, Dylan Downey, Conor Pio Gribben, Paul Bloomfield, Martin Rooney, Jamie Curran, Jamie Lowry, Paddy Grant, Christopher Brown, Christopher Hynes, Declan Hudson, Gerard Coughlin and Lorcan McAteer.
Management: Delcan Napier
Selectors: Francis Quinn and Paddy Branagan.                                                                                                                                                                                                   
ANNUAL GENERAL MEETING (AGM)
This year's AGM will take place on Wednesday 28th November at 7pm in clubrooms.
Do we have a valid email address for every member over 18 years old? Not sure - send email to secretary.clonduff.down@gaa.ie
Please spread the word with family and friends!
CLONDUFF DATES FOR YOUR DIARY!
Juvenile Awards - Sunday 28th October - New Format - Details later
Deceased Members' Mass – Wednesday 14th November @7.30pm in Clubrooms
Clonduff Annual Dinner Dance – Saturday 17th November @7.30pm in Clubrooms

CLONDUFF CHRISTMAS CLUB
It may only be September but in order to guarantee your club gear arrives in time for Christmas you need to contact Goretta/Noleen in Club shop asap.
Shop will be open:
Sunday mornings 10.30-12 noon
Wednesday evenings 6.30-8pm
 
Friends of Clonduff Lotto numbers for Monday 17th September were 14,23,21,27.
Two match 3 winners – Winners receive £50 each                                                                                                                                                                               Next Week's Jackpot £2,300

HANDBALL
SOCIAL HANDBALL
Down Handball plans to run a social handball league for beginners and 'beginners again'. The games will start in October.
If interested please give names to Club or County Board.
It's a great way to keep fit during the winter – Please spread the word!
CAMOGIE
U12 – Well Done to the U12 camogie team who won the Ellen Finnegan tournament in Castlewellan on Sunday afternoon.
U16 - Congratulations to the U16 Camogie team who were crowned league champions in Tuesday evening in an unbeaten campaign! They saw off Castlewellan to claim the title and will face Breadagh on Saturday 29th September in the Championship Final – Good Luck Girls!
MESSAGE FROM OUR COUNTY STARS                                                                                                                               The ten girls from Clonduff who played for the County this year would like to thank all those who supported them on the journey, the three buses that took off on the Sunday morning and all those who wished them well and to those who sponsored the girls, to those who bought good luck signs and to the wonderful men who decorated the village in red and black we thank you!!                                   We encourage all the younger members of the club to continue to work hard and train hard and some day you too could be entering the fray in the fabulous Croke Park wearing that famous Red and Black jersey! We are and always will be proud to wear the 'yella' jersey and to represent Clonduff on the County teams!
Congratulations to our senior team for reaching the Senior Championship Final after defeating Ballygalget in a hard fought battle on Saturday afternoon.