Collins' superb lob knocks spirited Down challenge as Cork earn first points Cork 1-13 Down 0-10
Monday 5th February 2018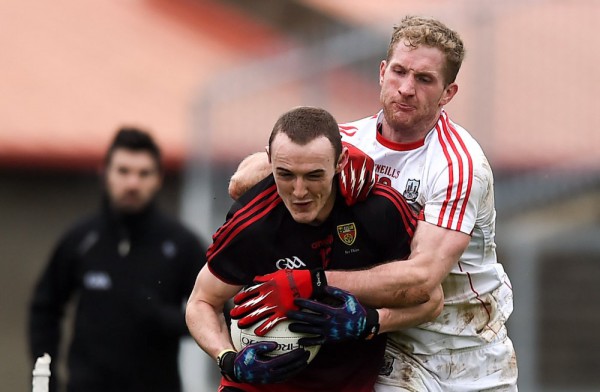 Collins' superb lob knocks spirited Down challenge as Cork earn first points
Division 2 - Round 2: Cork 1-13 Down 0-10
 
Mark Collins (1-5) netted 20 minutes into the second half as Cork defeated Down by 1-13 to 0-10 at Newry.
The Leesiders led by the odd point from 13 at the end of a well-contested first half but were far too strong for their hosts when the action resumed, Ronan McCarthy's side easing to their first victory of the campaign.
Colm O'Neill and Connaire Harrison traded the first two scores but the Rebels were four clear by the midway stage in the opening period after strikes from Sean White (2), O'Neill and Mark Collins. Anthony Doherty and Darragh O'Hanlon (free) were amongst the scorers as the Ulster county closed within one and the next four points were shared, with Ruairi Deane and Collins on target for the Rebels while Doherty and O'Hanlon (free) kept the Mourne men in touch at the short whistle.
Shay Millar made it seven apiece in the sixth minute of the second half but a Collins brace brought his individual tally to five and nudged the Rebels two clear by the 51st minute. Caolan Mooney replied at the three-quarters stage to reduce the arears to the minimum but a deadly spell between the 55th and 57th minutes won the game for the Rebels as they struck 1-2 - Collins lobbing to the net in between a couple of O'Neill frees, 1-11 to 0-8.

Peter Kelleher's point flew between the Down posts with six minutes remaining and the home fans from the attendance of 2,938 began to flock out of Pairc Esler, perhaps in a hurry to get home and watch Escape To The Country. They missed a late exchange between O'Neill (free) and Ryan Johnston as well as a late, late Kevin McKernan consolation and the last-gasp dismissals of Harrison (straight red) and Jamie O'Sullivan (second yellow).
Scorers -
Cork: M Collins 1-5 (2f), C O'Neill 0-5 (4f), S White 0-2, P Kelleher 0-1.
Down: A Doherty 0-3 (3f), D O'Hanlon 0-2 (2f), C Mooney, S Millar, C Harrison, K McKernan, R Johnston 0-1 each;
Down: S Harrison 5; C Flanagan 6, D O'Hagan 6, B McArdle 5; D O'Hanlon 6, N McParland 5, A Doherty 7; C Poland 5, N Donnelly 5; C Mooney 8, C Maginn 5, S Millar 6; D O'Hare 5, C Harrison 6, A Morgan 6. Subs: B O'Hagan 5 for O'Hare (51), K McKernan 6 for Maginn (51), R Johnston 6 for Millar (56), D McKibbin 5 for Doherty (56).
Cork: M White 6; S Ryan 7, J O'Sullivan 8, M McSweeney 7; K Flahive 7, B O'Driscoll 6, T Clancy 7; I Maguire 8, C O'Hanlon 7; S White 7, K Crowley 6, R Deane 6; J O'Rourke 6, C O'Neill 7, M Collins 8. Subs: M Hurley 6 for O'Rourke (44), C Dorman 6 for O'Driscoll (51), P Kelleher 7 for O'Hanlon (60), M Taylor 7 for White (63), C Dorgan NR for Flahive (68), S Sherlock NR for O'Neill (69).
Ref - Fergal Kelly (Longford).