Donegal edge experimental Down as McCartan returns to Mourne hot-seat
Saturday 8th January 2022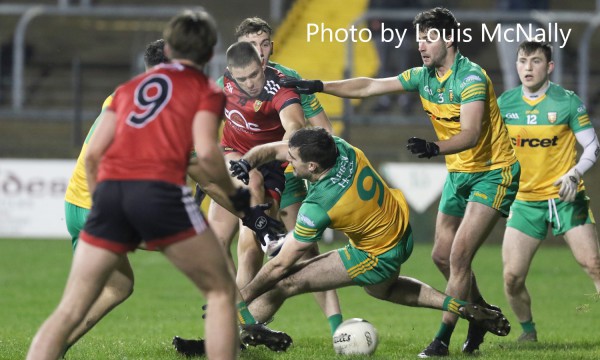 Bank of Ireland Dr McKenna Cup Section A: Donegal 1-13 Down 2-8 Taken from Irish News https://www.irishnews.com/sport/gaafootball/2022/01/08/news/donegal-edge-experimental-down-as-mccartan-returns-to-mourne-hot-seat-2555087/
THE summer sky that welcomed Donegal and Down when they raised the curtain on last year's Ulster Championship felt like a distant dream as James McCartan's second stint in charge of the Mournemen ended in defeat at a wintry Ballybofey last night.
With the easing of Covid regulations just around the corner as June turned to July then, just 500 were allowed into Pairc Esler to watch Donegal dismantle a Down side whose race was all but run by the halfway mark. Pairc MacCumhaill was only allowed to host half its 17,000 capacity – or up to 5,000 – under current Irish government guidelines, but there was no need for counting heads even though a decent crowd beat a path to the first of the Dr McKenna Cup's Friday night lights experiment.
The long journey home might have had the Down players and management questioning the wisdom of the Ulster GAA, but 'Wee James' and Declan Bonner will have been happy to get the ball rolling on a year everybody hopes resembles something closer to normality than the previous two. As expected, both availed of the opportunity to have a look at men lesser-spotted in county jerseys, with only a sprinkling of established names on either side. In McCartan's case, there was little choice.
As well as playing catch-up after his appointment at the end of November, which ended an almost five-month search for a successor to Paddy Tally, Covid severely depleted McCartan's options on his first game back. The net result was nine debuts handed out – for last year's U20 graduates Odhran Murdock, Andrew Gilmore and Tom Close, Warrenpoint's Ruairi McCormack, Carryduff pair John McGeough and Josh Connery, Denis Murtagh, Finn McElroy and Bredagh's Cormac O'Rawe. Considering all of that, McCartan can only have been heartened by what he saw. Barry O'Hagan was dangerous any time he got on the ball early on. McCormack kicked two nice scores.
O'Rawe's size and power caught the eye, and he brushed past Odhran McFadden-Ferry to set up Andrew Gilmore's 28th-minute goal after Donegal looked to have taken control in the first half. But after a cagey start, it was a case of New Year, same old problems for Down as Donegal dominated their kick-outs for a 10-minute spell to move 0-7 to 0-3 ahead, the twin towers of Michael Langan and Caolan McGonigle, alongside Tony McClenaghan, suddenly getting on plenty of ball. With Paddy McBrearty – the scourge of Down last summer – needing only a yard to punish any mistake, it was looking ominous for the Mournemen.
But they dragged themselves back into it when Gilmore palmed beyond Michael Lynch, before a wonderful O'Rawe fetch around the middle led to Havern drawing Down level. A McBrearty free and a lovely Peadar Mogan strike, the last kick of the half, edged Donegal ahead by two at the break and Declan Bonner's men looked set to keep their opponents at arm's length from there on – especially after McClenaghan buried low to the net on 50 minutes after clever play from Ethan O'Donnell.
But, with the Mournemen growing in confidence and the raft of changes affecting Donegal's flow, they crept back into it and a Murdock goal put them into the lead momentarily before scores from sub Ciaran Thompson, Mogan and a McBrearty free saw the Tir Chonaill over the line. Down will be back in the more familiar surrounds of Pairc Esler on Tuesday night, when Enda McGinley's Antrim are the visitors to Newry, while it's the Saffrons next for Donegal too – but not until Saturday, January 15 in Portglenone.
Donegal: M Lynch; C Ward, B McCole, O McFadden-Ferry; T McClenaghan (1-0), E Ban Gallagher, J McKelvey; M Langan (0-3, 0-2 frees), C McGonigle; E Doherty, P Mogan (0-2), S O'Donnell (0-1); P McBrearty (0-5, 0-3 frees), C McGuinness, C O'Donnell (0-1).
Subs: E O'Donnell for O McFadden-Ferry (HT), C Thompson (0-1) for McGuinness (HT), C McColgan for McKelvey (46), A Doherty for E Doherty (50), O Doherty for S O'Donnell (60), J Grant for McClenaghan (65), M Curran for E Ban Gallagher (70)
Yellow card: J McKelvey (43)
Down: R Burns; D Murtagh, F McElroy, C McCartan; R McCormack (0-2), N McParland, J McGeough (0-1, 45); A Doherty, J Connery; O Murdock (1-0), T Close, C O'Rawe; B O'Hagan (0-4, 0-3 frees), P Havern (0-1), A Gilmore (1-0).
Subs: B McArdle for Murtagh (33), R Beatty for Close (41), L Middleton for Connery (46), R O'Higgins for O'Rawe (59), T Prenter for McGeough (67)
Yellow card: R Beatty (43)
Ref: S Hurson (Tyrone)
Att: 1,050