Down GAA Club Football Championship Semi-Finals
Friday 22nd October 2021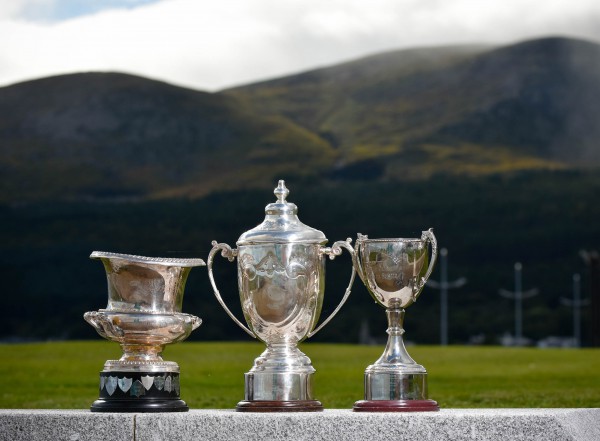 This week sees the Down Club Football Championships reach their respective semi-final stages and if the fare we have seen so far is anything to go by we should be in for a treat with six hugely enticing fixtures across the Junior, Intermediate and Senior grades.
In the Parador Lodge Junior Football Championship both semi-finals will take place at 7:15 pm on Friday evening. Dundrum and Drumaness will clash in Liatroim. Drumaness Have been scoring heavily having tallied a total of 3-29 in their victories over St. Michaels Magheralin and Glasdrumman. The St Colman's men will be looking to continue in this attacking vein against Dundrum however for their part Dundrum have been resolute at the back. The Baysiders have twice beaten Ardglass to get to this stage (by margins of six and then three points) so will welcome the opportunity to test themselves against a new opponent. 
Meanwhile, over in Downpatrick, East Belfast will be taking on Aughlisnafin. The 'Fin are seeking to reach the Junior final for a third successive year while East Belfast are in only their second year of existence having been born out of the first Covid lockdown of spring/summer 2020. The newbies have been very impressive in this year's competition conceding a total of just 1-09 as they have defeated Aghaderg and Newry Mitchels but the greater experience lies with Aughlisnafin and, having come through a tough encounter with Teconnaught, they achieved a nine point win over Kilclief to set up this enticing semi final. 
The first of the Parador Lodge Intermediate Semi-Finals also takes place on Friday night - a game that sees An Riocht and Drumgath clash for a second time in the Championship this year. An Riocht won the previous meeting by 0-15 - 0-08 but survived a quarter-final scare from Saval to book their passage to the last four. Drumgath for their part responded well to the Kingdom defeat. First they beat Ballymartin (the host club for this fixture) and then managed a four point success over a fancied Liatroim side. Buoyed by a string of underage victories in recent weeks there is a wave of positivity washing over the 'Gath club at present and they will seek to ride the crest of that wave as they try and exact revenge for the defeat inflicted upon them by the men from the foot of the Mournes at the end of September. Drumgath are, of course, looking to reach the Intermediate Championship Final for the second season running. 
The second of the Intermediate Semi-Finals is on Saturday at 6:00pm in Kilcoo. Annaclone, who have had wins over St Paul's (twice) and Attical will face a Darragh Cross side who have hit 3-18 (vs Saval) and 5-10 (vs Tullylish) and who also beat Newry Shamrocks 0-14 - 0-05 (albeit they did suffer a five point defeat at the hands of Liatroim). Annaclone have conceded only 3-14 across their three games so will be a difficult nut to crack defensively and they also possess attacking threat when countering. It promises to be another intriguing affair that could go either way. 
In the Morgan Fuels Down Senior Football Championship both semi finals are in Pairc Esler on Sunday. At 3:00pm Kilcoo take on Ballyholland with the Magpies seeking to reach a tenth consecutive final while the Harps are in the last four for the third year running and will be looking to this to be the year they take the next step and make the showpiece - a county final in a fortnights time. Both sides are packed with experience and Ballyholland will take heart from the fact that Kilcoo haven't quite been firing on all cylinders in their Championship run to date. That said they've won all their games and should the Owen Roe's hit the peak of their powers they will be incredibly difficult to stop. A concern for Ballyholland may be their lack of a spread of scorers as only 8 men have registered on the scoresheet for them in this Championship campaign. Kilcoo meanwhile have scores from all over the field and have had twelve different scorers in their championship games. Both sides have unblemished records in the 2021 Championship but only one can progress to the final. This should be an intense, physical championship tie and is, most certainly, another one to look forward to. 
The evening game, beginning at 7:15 pm, sees Clonduff do battle with Burren. The Yella's are the only team in the final four of the Senior Championship to have tasted defeat in the competition this year but having fallen to Kilcoo they regrouped to see off Warrenpoint and RGU Downpatrick - finishing much the stronger in both games. That strong finish is something Burren will be wary of - not least as they let a commanding lead slip against Mayobridge only to rally with a goal and a point in stoppage time to pull the game out of the fire and get over the line. Convincing wins over Saul and Glenn and the fact the did eventually emerge victorious against the 'Bridge will have given confidence to a Burren side that features a notable injection of youth this year. This one should be full of energy, pace, power and scores. Don't be surprised if it becomes a bit of a shootout and both sides know how to find the net. Burren have six goals in their three games to date while Clonduff have eight majors in their four ties. 
All in all there is a lot to look forward to and we hope you are as excited about the upcoming games as we are. There has already been plenty of drama across our championships this year but with the line up we have this weekend tight ties, possible late scores and who knows - even extra time or penalties could be the order of the day in some of these games. One thing is certain though - that in each Championship by Sunday night four will have become two. As ever you can stay in touch with our Championship coverage across Twitter and on Down GAA TV. Enjoy the games this weekend and whoever you're supporting best of luck to you all.