Down GAA Draw Tickets ON SALE NOW
Friday 2nd February 2018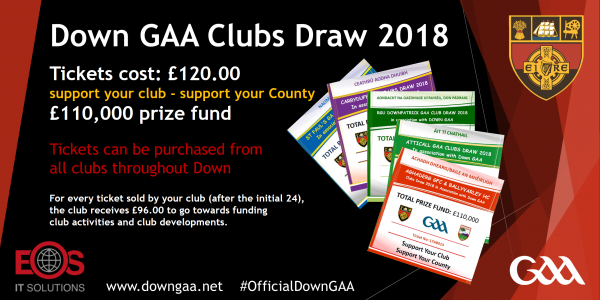 Down GAA Draw Tickets
ON SALE NOW
- Support YOUR Club - Support YOUR County -
With the new season upon us, clubs throughout Down are selling tickets for the 2018 Down GAA Clubs draw.
In 2017 the Down GAA Clubs draw raised over £433,152.00 for the Clubs of Down.  In total 5508 tickets were sold by the clubs of Down which brought in a revenue of £660,960, with over 65% of the revenue going back to the clubs of Down, £105,000 to the County Board and the rest towards the prize fund. 
Tickets cost £120.00 and is one way for you to demonstrate your support for your club and for your County. The draw offers £110,000 prize fund over a twelve month period and for every ticket sold by your club (after the initial 24), the club receives £96.00 to go towards funding club activities and club developments.  In the 6 years of the draw over £2.253 million has gone back to the clubs of Down.
Tickets can be purchased from all clubs throughout Down, with the closing date for entry being the 19th February.  Clubs are asked to make sure that all returns are made as soon as possible.
A big thank you to individuals who have already supported their club by buying their ticket
IF YOU'RE NOT IN YOU CANNOT WIN