Down GAA Easter GAA Coaching Camp 2017
Thursday 6th April 2017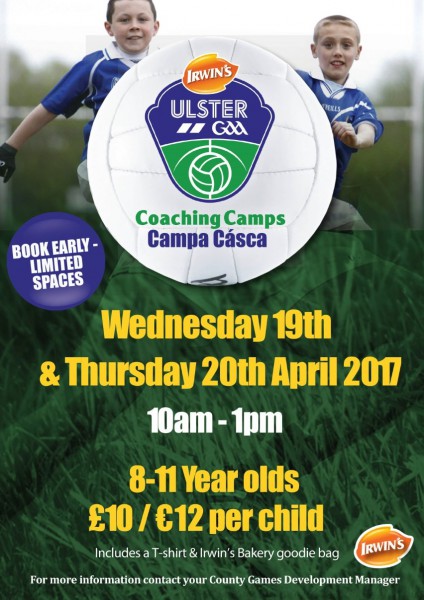 Down GAA Easter GAA Coaching Camp 2017
Down GAA will be running an Easter GAA Coaching Camp in RGU Downpatrick in 2017. The camp will be run in conjunction with Irwin's Home Bakery.
The Camp will run over 2 days on Wednesday 19th and Thursday 20th April 2017, and will run from 10am to 1pm each day.
The Camp is open to Boys and Girls aged 8-11 and will cost £10 per child.
Each Child attending will receive a Campa Cásca T-Shirt and Irwin's goody bag!!
Click here to open the application form for anyone wishing to attend. This must be completed in full and returned, via post, along with Payment to:
Down GAA Easter Camps
46 - 48 Main Street
Castlewellan
BT31 9DG
The deadline for applications will be Wednesday 12th April 2017 at 5pm. Please note, Registrations will not be accepted after this date, and walk ins will not be accepted on the day of the camp.
Places on the camp are limited and will be offered on a first come, first served basis.
**Children attending should come suitably prepared for Gaelic Games activities (including a mouth guard). Children should also bring a packed lunch**