Down well Represented in All Ireland Scór Sinsir Final
Tuesday 16th November 2021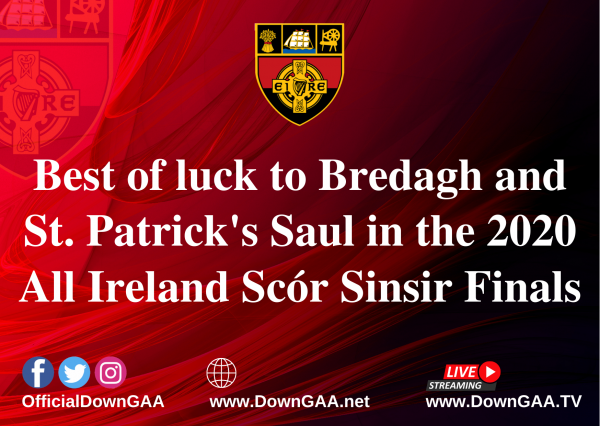 Down well Represented in All Ireland Scór Sinsir Final
Down will be represented by Bredagh and Saul in Saturday's All Ireland Scór final at the Air-Dome in the Connaught GAA Centre, Ballyhaunis.
Bredagh will start proceedings at 12 noon in the Quiz. The quiz team of John Devaney, Ciarán White, Frank Costello and Noel Doran qualified as one of the three Ulster representatives in March 2020. For a number of years, Bredagh have been one of the top quiz teams in Ulster. Team member and County Chairman, John Devaney, has also acted as Question Master at Ulster and All Ireland level.
The Saul Ballad Group of Angela MGreevy, Gareth McGreevy, Catherine Boyle, Grainne Lynch and Orlagh Carson qualified for the All Ireland Final by winning the delayed 2020 Ulster Final on 30th October. The Gaels of Saul have a proud history in Scór with All Ireland successes in 1996 (Ceili Dancing) and the Ballad Group (2009 and 2011 – Scór na n'Óg) and 2016 (Scór Sinsir). The 2016 Ballad Group also played in Croke Park at the All Ireland Hurling Final.
The Down County Board and the clubs of Down pass on the wishes of the whole County to the Saul Ballad Group and the Bredagh Quiz team.