Down's Allianz Football League 2020 Fixture Details
Wednesday 27th November 2019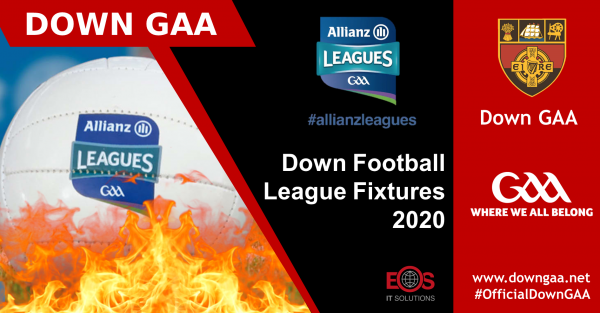 Round 1: 26.01.2020 (Sun): Clonmel GAA Pitch    14:00 Tiobraid Árann v An Dún
Round 2: 01.02.2020 (Sat) : Páirc Esler, Newry   19:00 An Dún v Doire
Round 3: 09.02.2020 (Sun): Páirc Uí Chaoimh, Cork  14:00 Corcaigh v An Dún
Round 4: 22.02.2020 (Sat): Páirc Esler, Newry   19:00 An Dún v An Longfort 
Round 5: 01.03.2020 (Sun): Bord na Móna O'Connor Park  14:30 Uíbh Fhailí v An Dún
Round 6: 15.03.2020 (Sun): Páirc Esler, Newry   14:00 An Dún v Liatroim
Round 7: 22.03.2020 (Sun): Gaelic Grounds, Drogheda  14:00 An Lú v An Dún 
Full Details for Div 3:
Counties: 
An Dún
An Longfort
An Lú 
Corcaigh
Doire 
Liatroim 
Tiobraid Árann
Uíbh Fhailí
• Each team to play seven ordinary rounds.
• The top two teams contest the Roinn 3 final.
• The top two teams are promoted to Roinn 2.
• The bottom two teams are relegated to Roinn 4.
Round 1
25.01.2020 (Sat)
Celtic Park, Derry   17:00 Doire v Liatroim 
Páirc Uí Chaoimh, Cork  18:00 Corcaigh v Uíbh Fhailí 
26.01.2020 (Sun)
Glennon Bros. Pearse Park  14:00 An Longfort v An Lú 
Clonmel GAA Pitch    14:00 Tiobraid Árann v An Dún
Round 2
01.02.2020 (Sat)
Páirc Esler, Newry   19:00 An Dún v Doire
02.02.2020 (Sun)
Gaelic Grounds, Drogheda  14:00 An Lú v Tiobraid Árann 
Avantcard Páirc Sean Mac Diarmada 14:00 Liatroim v Corcaigh 
Bord na Móna O'Connor Park  14:00 Uíbh Fhailí v An Longfort
Round 3
09.02.2020 (Sun)
Derry GAA Centre, Owenbeg  13:00 Doire v Tiobraid Árann 
Glennon Bros. Pearse Park  14:00 An Longfort v Liatroim 
Gaelic Grounds, Drogheda  14:00 An Lú v Uíbh Fhailí 
Páirc Uí Chaoimh, Cork  14:00 Corcaigh v An Dún
Round 4
22.02.2020 (Sat)
Páirc Esler, Newry   19:00 An Dún v An Longfort 
Semple Stadium, Thurles  19:00 Tiobraid Árann v Corcaigh
23.02.2020 (Sun)
Derry GAA Centre, Owenbeg  14:00 Doire v An Lú 
Avantcard Páirc Sean Mac Diarmada 14:00 Liatroim v Uíbh Fhailí
Round 5
01.03.2020 (Sun)
Gaelic Grounds, Drogheda  14:00 An Lú v Liatroim 
Páirc Uí Chaoimh, Cork  14:00 Corcaigh v Doire 
Glennon Bros. Pearse Park  14:30 An Longfort v Tiobraid Árann 
Bord na Móna O'Connor Park  14:30 Uíbh Fhailí v An Dún 
 
Round 6
15.03.2020 (Sun)
Páirc Esler, Newry   14:00 An Dún v Liatroim 
Páirc Uí Chaoimh, Cork  14:00 Corcaigh v An Lú 
Celtic Park, Derry   14:00 Doire v An Longfort 
Semple Stadium, Thurles  14:00 Tiobraid Árann v Uíbh Fhailí
Round 7
22.03.2020 (Sun)
Glennon Bros. Pearse Park  14:00 An Longfort v Corcaigh 
Gaelic Grounds, Drogheda  14:00 An Lú v An Dún 
Avantcard Páirc Sean Mac Diarmada 14:00 Liatroim v Tiobraid Árann 
Bord na Móna O'Connor Park  14:00 Uíbh Fhailí v Doire 
Final
28.03.2020 (Sat)  
Páirc an Chrócaigh   TBC 1st Placed Team v 2nd Placed Team