Glasdrumman club notes - 02 October 2017
Monday 2nd October 2017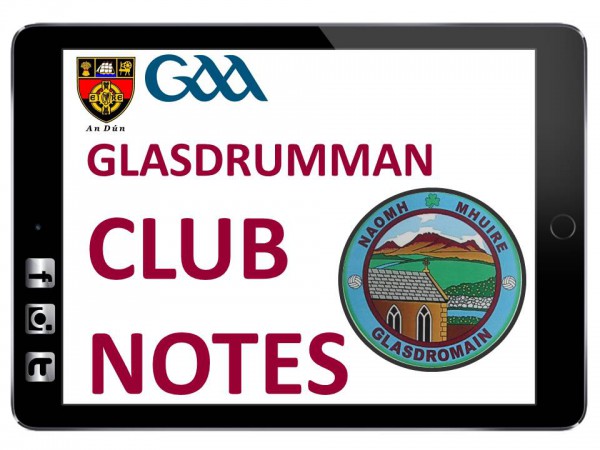 Glasdrumman club notes - 02 October 2017
Another momentous day for Niamh McDowell and our Club in Pairc Esler on Sunday.   She had the honour of singing " Amhrán na Bh Fiann " before the the Senior Championship final  between Burren and Kilcoo. Then in recognition of their All Ireland success in Scór and in front of a very appreciative crowd  Niamh and the Clonduff Ballad group( Paul, Colleen, Agnes, Martina and Caroline) were  presented with commemorative medals  by County Chairman Sean Rooney accompanied by William James Smith County Cultural Officer and Paula Magee from Coiste Scór Naisiunta.   At half time George Thompson ,from our u-12 squad,represented the Club in the Clubs of Down presentation at Half time in the Senior Final.  Congratulations to Burren Minors and Kilcoo Seniors on their respective Championship wins and we wish them well in the Ulster Championships and beyond. 
The Eire Óg u-13s had a tough home fixture on Saturday against a very strong Rostrevor side. Despite some good performances from the Eire Óg lads it was not to be their day and it was the visitors who were victorious. 
Training continues st the Quarter road on a Wednesday evening from 7pm until 8pm.
Eire Óg u-16's  take to the field this Saturday in Drumgath for the U-16  "B" final against Clann na Banna. We would like to see a  big crowd there  to cheer the team on.  Jonathan McVeigh from our Minor contingent won a medal with Castlewellan in the East Down Minor  " B" Championship. Great to see our local talent doing well. 
Ballymartin Ladies' Senior team , managed by our own Declan Grant, saw this year's amazing winning streak brought to an end against St. Naul's of Mountcharles in the Ulster Championship Quarter -finals.  A great year with the team going through their County unbeaten with talent from all three of our Local clubs.
Congratulations to Colleen Joyce on her award at Circuits on Tuesday Night. Yoga continues on Mondays at 8.00 p.m.  Circuits on Tuesdays  at 7.00 p.m.   Wednesday night Walking Club at 7.00 p.m . Thursday night Club Bingo at 8.30 p.m . All in the Clubroomsunless stated otherwise. 
We wish a sppedy recovery to our esteemed Club member Ruby Higgins.
Anyone interested in taking part in a free all day woodcarving workshop with lunch provided, please contat Colette Burden.
Glasdrumman U8/U6s played their last GoGames match against local neighbours Atticall U7s on Friday evening. The boys and girls have really developed their skills and teamwork throughout the year and this was very evident in how they played in their games.  The players and mentors will take a break for the winter and Glasdrumman Youth Club will commence shortly. Thanks to all parents and players who committed to the team this season. We will be in touch soon with details of the end of season treat.