Glasdrumman club notes - 09 May 2017
Tuesday 9th May 2017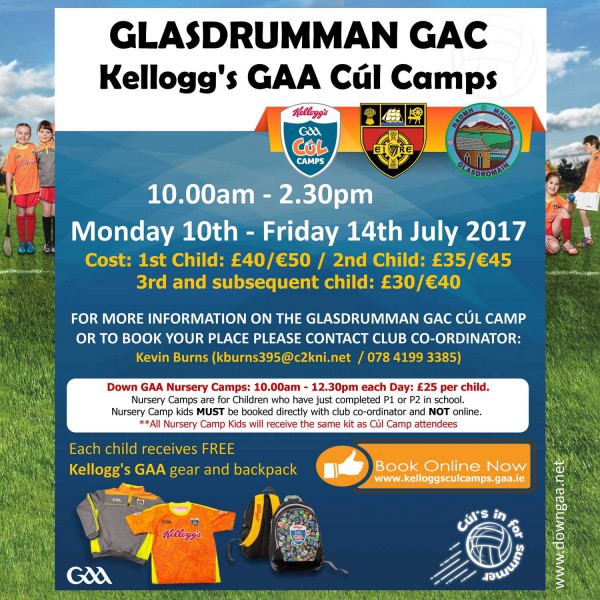 Glasdrumman club notes - 09 May 2017
Our Senior  team  was in fine form on Friday evening for their home game against St Paul's. Glasdrumman 3.21 to St Paul's 1.05. Glásdromain Abú.
The Eire Og u-12s took part in the Brian O'Hare tournament in the kingdom on Saturday and thoroughly enjoyed their day despite getting beat in the quarter finals of the shield by the eventual winners An Riocht. 
Training continues on a Thursday evening from 6.45 until 7.45 at the Quarter Road pitch.  Their next game is away to Tullylish on Sunday morning.  Details of travel arrangements will be given at training.
The Eire Og u-14s had a hard fought victory on Monday evening against Tullylish.  It was a great game of football from 2 very determined sides.
They play Atticall on Monday 8th May (match report next week).  Next game is away to St Michaels on Monday 15th May.    
The Eire Og u-16s had another great win on Thursday evening.  Well done boys!  Next game is away to St Michaels on Thursday.
The older youth club group are taking part in the RNLI's 'Hit the Surf' this coming Saturday.  As places are limited it's important that you contact Catherine ASAP to book your place.
Glasdrumman U-6, u-8 and u-10 training continues on a Sunday morning at 11 a.m. at the Quarter Road pitch.  New players are welcome!
Glasdrumman Walking Group will start again on Wednesday 10th May at 7.00 p.m. meeting at the clubrooms and going on a different walk each week. After the walk it will be back to the clubrooms for fruit salad, cup of tea and a bit of craic. Cost is £2 per night. Everyone welcome!!
Yoga continues on Mondays at 8.300 p.m in the Clubrooms.  Weekly Bingo on Thursdays at 8.30. Minibus pick up and return available  Kilkeel, Ballymartin and Annalong. 
Niamh McDowell was back in the Waterfront for the All Ireland Scór  Sinsir Finals on Saturday to get her photo taken with Uachtarain C.L.G   Aogán Ó Fearghail.  It was like déja vu all over again , when the results for the winner of the Ballad Group section  of th Scór Sinsir Final ; Cuige Uladh, Contae an Duin , Cumann Cluain Daimh. After a flawless performance of their two songs in a very tight category . Clonduff, finally, reaped the reward for all the hours of practice , rehearsal and hard work.  Maith Sibh gó leir. Thanks for  great craic and hospitality on the day to our supporters who were lucky enough to be there to witness the momentous occasion. 
Thanks also to all our Club members who took part in the Darkness into Light walk in Kilbroney Park, Rostrevor on Saturday morning.