Léirsiú Poiblí/ Public Demonstration
Tuesday 14th February 2017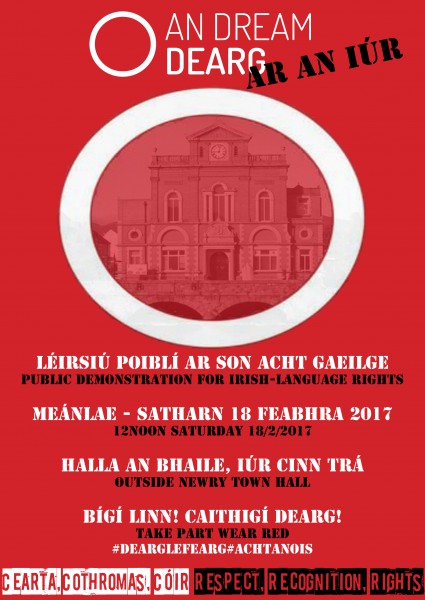 A Shean, a chara,
Tá súil agam go bhfuil sibh go maith? I hope you are well? It was lovely to talm to you today, we are writing to you as the Irish Language Development Officer for both the the Lower Mourne Gaelic League and the Lecale Gaelic Society in County Down. There will be a Public Demonstration for Irish-Language Rights at 12 noon on Saturday 18/2/2017 Outside Newry Town Hall! This has been organised by the Irish speaking community and everyone is welcome! 
As the Irish language belongs to all of us, and is part of the GAA's remit, We hope to see as many GAA represetatives as poosible at the demonstation. We have attached more information about an Dream Dearg and I have also attached the flyer.
We are hoping the demonstration will be colourful and fun, there will be facepainters and singers on the day. The demonstration will last an hour. Please wear red, which is handy as it is the Down county colours!
Will you please forward this information on to the Down senior, minor and ladies players along with all county teams, team boards and also the team board cultural officers.
Looking forward to seeing you there on the day. If you have any questions please dont hesitate to call me on 07500428600
Take Part! Wear Red!
#AchtAnois