Mayobridge, Annalcone/Drumgath and Ballyholland Boys through to National Feile Peile na nOg 2019 Semi Final while and Carryduff and Saval Girls also through
Sunday 30th June 2019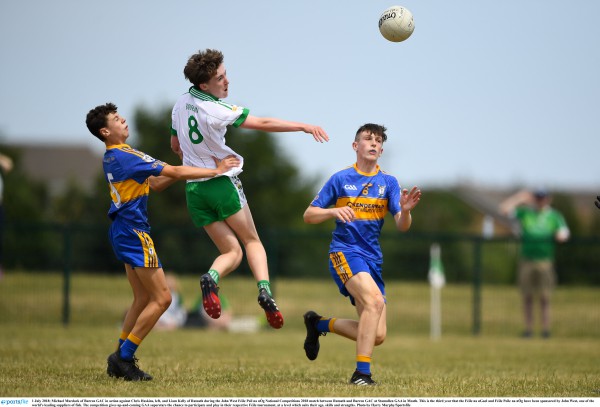 In the Boys National Feile Peile na nOg 2019 played in Connacht Annalcone/Drumgath and Ballyholland have advanced to the Cup Semi FInals, while Mayobridge have qualified to the Shield Semi Final.
Annaclone/Drumgath playing in division 9 defeated Lancashire by a single point 1-06 to 1-07 to advance to the Cup Semi Final where they will take on Derry side Faughanvale.  
Ballyholland playing in division 12 defeated Sligo side Cúil Irra/Leathros/CooleraStrandhill, St. Dominic's (Longford) and Leitrim side Drumkeeran to set up a Quarter Final meeting with
Tuarloistreáin/Tourlestrane
from Sligo.  The Down Club defeated Tuarloistreáin/Tourlestrane 6-04 to 1-03 to set up a semi final meeting with Western Australia.
Maybridge playing in division 5 lost all groups games, defeated by Tuam Stars (Galway), Listowel Emmets (Kerry) and Dunmore MacHales (Galway), however in the Shield Semi Final they defeated Mayo side Crossmolina Deel Rovers 1-10 to 0-04 to set up a semi final meeting with Erris St. Pats (Mayo).
Burren who were defeaed in last years feile division 1 final and again playing in division 1 qualified for the Cup Quarter finals after beating Caherlistrane (Galway) 5-08 to 1-4 and Nemo Rangers (Cork)
2-02 to
0-07 in the group stages.  In the Cup Quarter Final Galway side Claregalway overcame the Down side 4-07 to Burren's 2-03.
In the Girls Feile Carryduff and Saval are through to Cup Semi Finals in division 2 and 4.  Carryduff defeated Kilmoremoy (Mayo)
6-08
to 0-03 in the Quarter finals to set up a Semi Final meeting with Naomh Eargnait, Muine Glás (Antrim) in the Connacht GAA Centre.  Saval take on Clonguish (Longford) in the cup division 4 semi final after beating Kinawley Brian Borus (Fermanagh) 2-07 to 1-05 in the Quarter Finals
Full Results for Down Clubs
Burren - Boys Division 1
Round 1: Caherlistrane (Galway) 1-4 Burren 5-08
Round 2: Burren 2-02 Nemo Rangers (Cork) 0-07
Round 3: Corofin (Galway) 1-05 Burren 1-03
Cup Quarter Final: Claregalway (Galway) 4-07 Burren 2-03
Mayobridge - Boys Division 5
Round 1: Tuam Stars (Galway) 2-11 Mayobridge 1-06
Round 2: Mayobridge 1-06 Listowel Emmets (Kerry) 2-07
Round 3: Dunmore MacHales (Galway) 1-11 Mayobridge 2-07
Shield Quarter Final: Crossmolina Deel Rovers (Mayo) 0-04 Mayobridge 1-10
Shield Semi Final (in Islandeady at 11.30am): Erris St. Pats (Mayo) v Mayobridge
Shield Final (in Wesport at 2.30pm): Winners of Naomh Padraig (Mayo) & Dunmore MacHales (Galway) v Winners of Erris St. Pats & Mayobridge
Annaclone/Drumgath - Boys Division 9
Round 1: Annaclone/Drumgath 4-10 Killererin (Galway) 2-02
Round 2: Balyna (Kildare) 4-03 Annaclone/Drumgath 2-03
Round 3: Kilconly (Galway) 0-03 Annaclone/Drumgath 2-07
Cup Quarter Final: Lancashire (Lancashire) 1-06 Annaclone/Drumgath 1-07
Cup Semi Final (in Kilcoyne Park at 12.00pm): Faughanvale (Derry) v Annaclone/Drumgath
Cup Final (in Kilcoyne Park at 2.30pm): St Mary's-Kiltoghert/Naomh Muire-Cill Tochairt (Leitrim) & Balyna (Kildare)
Ballyholland - Boys Division 12
Round 1: Cúil Irra/Leathros/CooleraStrandhill (Sligo) 0-01 Ballyholland 7-09
Round 2: Ballyholland 3-10 St. Dominic's (Longford) 1-01
Round 3: Drumkeeran (Leitrim) 2-02 Ballyholland 1-09
Cup Quarter Final: Ballyholland 6-04 Tuarloistreáin/Tourlestrane (Sligo) 1-03
Cup Semi Final (in Glencar/Manorhamilton at 12.00pm): Western Australia (Western Australia) v Ballyholland
Cup Final (in Avantcard Páirc Seán Mac Diarmada at 2.30pm): Winner of Western Australia & Ballyholland v Winner of St Brigids (Leitrim) & Fingal Ravens (Dublin)

Carryduff - Girls Divison 2
Round 1: Breaffy (Mayo) 1-01 Carryduff 3-10
Round 2: Carryduff 4-09 An Bratach (Clare) 1-01
Round 3: Claremorris (Mayo) 0-03 Carryduff 1-03
Cup Quarter Final: Carryduff 6-08 Kilmoremoy (Mayo) 0-03
Cup Semi Final (in Connacht GAA Centre at 11.30am): Carryduff v Naomh Eargnait, Muine Glás (Antrim)
Cup Final (in Connacht GAA Centre at 3.40pm): Winner of Carryduff & Naomh Eargnait, Muine Glás v Winner of New York (New York) & St Conleths (Laois) 
Saval - Girls Divison 4
Round 1: Ballinasloe (Galway) 1-00 Saval 4-06
Round 2: Saval 2-03 Bennekerry/Tinryland (Carlow) 3-04
Round 3: St Brigids (Roscommon) 1-02 Saval 1-02
Cup Quarter Final: Kinawley Brian Borus (Fermanagh) 1-05 Saval 2-07
Cup Semi Final (in Brickens at 11.45am): Clonguish (Longford) v Saval
Cup Final (in Connacht GAA Centre at 2.40pm): Winner of Clonguish & Saval v Winner of Knockainey (Limerick) & Bennekerry/Tinryland (Carlow)