St Patrick's GAC Portaferry club notes - 09 May 2017
Tuesday 9th May 2017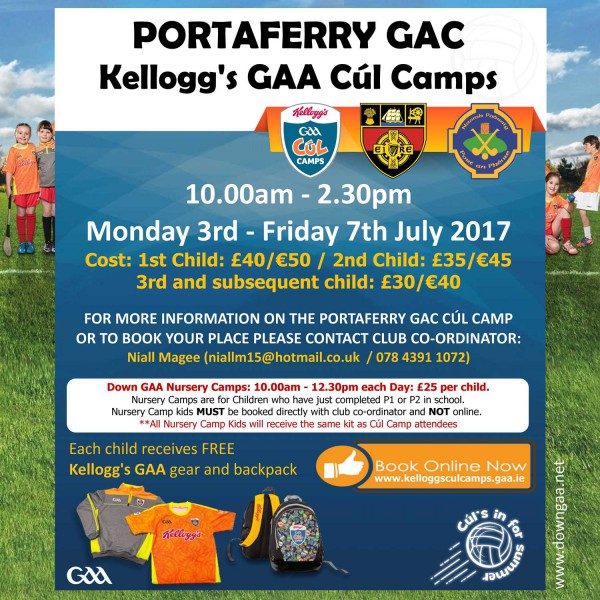 St Patrick's GAC Portaferry club notes - 09 May 2017
Lotto – numbers 16, 18, 21, 23. Consolation prize of £30 to Sandra Magee. Next draw date 17/05/2017. Jackpot now £3650. Thanks for continued support, £1 to enter. Tickets can now be purchased at Peninsula Sports, Centra, Fiddlers Green and The Lep, as well as the usual collectors and usual outlets.
Fundamentals - Training continues on Friday nights at 6.15pm. Everyone welcome.
Upcoming Fixtures - Senior Camogs away to Ballycran, 10/05/17 at 7.30pm. U12 Hurlers away to Ballygalget, 11/05/17 at 7.30pm. U14 Hurlers at home to O'Rahillys, 12/05/17 at 7.30pm. Minor Hurlers away to Le Cheile,12/05/17 at 7.30pm. Senior Hurlers at home to Tir na nOg, Randalstown, 14/05/17 at 3pm. Reserve Camogs away to Ballyholland, 15/05/17 at 7.30pm. Reserve Hurlers away to Clonduff, 15/05/17 at 7.30pm. U14 Camogs at home to Bredagh, 16/05/17 at 7.30pm. ALL SUPPORT WELCOME. GAMES ARE SUBJECT TO CHANGE, KEEP AN EYE ON CLUB FACEBOOK.
Feile na Gael – well done to all our girls and boys who took part and enjoyed the Feile. Keep up the hard work and practice. Thanks to all the coaches for their hard work and time.
Feile na Gael - As our U14 Hurlers will be representing Down in the National Feile competition in Carlow/Kilkenny/Wexford on the 16th June to the 18th June, the club has undertaken a major fundraising drive to collate the necessary funds that will be required to facilitate this trip. Our team will be hosted by 'Young Irelands' of Kilkenny, home of the legendary hurler DJ Carey. Any individuals who are willing to make a donation that will assist in covering these additional expenses, it would be greatly appreciated. It is planned to advertise all submitted donations in the Down Recorder and Facebook, the week prior to the team going south with a message of good luck from our sponsors and donators. All donations received will be greatly appreciated and completely confidential. Contact Niall Magee 07843911072 or niallm15@hotmail.co.uk
Feile Fundraisers – will include Sponsored Walk, Cake Sale and Coffee Morning, Father and Son Match, Sponsor a Player. Keep an eye out for more details.
Club Charities 2017 - the committee have chosen WE CANCERVIVE and AWARE NI, as the 2 Charities the club will support this year. These organisations support the 2 biggest illnesses in our country. Thanks in advance to all those who have or will donate.
Changing Rooms – must be kept clean and tidy, it is the responsibility of all managers and players to adhere to these rules. Thank you.
Season Tickets – are still available at £30.00. This will be for Senior and Intermediate Camogie, Senior and Intermediate Hurling. If you don't have a Season Ticket you must pay at the gate.
Cul Camp 2017 – is on Monday 3rd July to Friday 7th July. More details to follow.
Cul Camp Coaches - anyone interested in being a coach this summer, application forms are now available and have to be completed by Friday 19th May. Email niallm15@hotmail.co.uk for application forms.