St Patrick's GAC Portaferry club notes - 18 April 2017
Tuesday 18th April 2017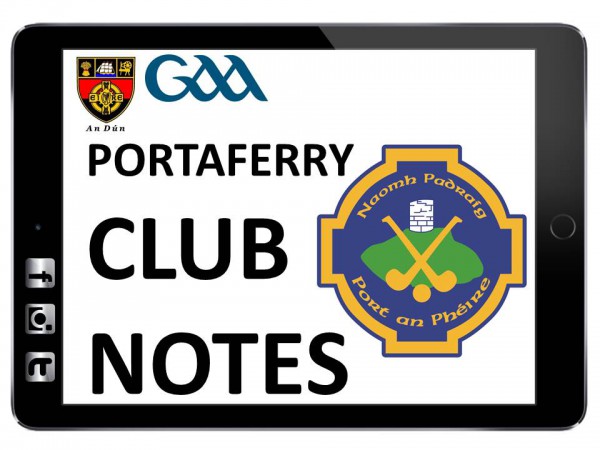 St Patrick's GAC Portaferry club notes - 18 April 2017
Lotto – numbers 14, 16, 22 and 28. Consolation prize of £30 to Ian Fisher. Next draw date 19/04/2017. Jackpot now £3500. Thanks for continued support, £1 to enter. Tickets can now be purchased at Peninsula Sports, Centra, Fiddlers Green and The Lep, as well as the usual collectors and usual outlets.
Fundamentals - Training will start on Friday 21st April at 6pm. Everyone welcome.
Upcoming Fixtures – Minor Hurling at home to Warrenpoint, 19/04/17 at 7.15pm. Senior Camogie at home to Clonduff, 19/04/17 at 7pm. U12 Hurling at home to Ballygalget, 20/04/17 at 7.15pm. U14 Hurling away to Bredagh,21/04/17 at 7.30pm. Minor Hurling away to Eoghan Rua, 21/04/17 at 6.45pm. U16 Hurling at home to Craobh Rua, 23/04/17 at 11am. Senior Hurling at home to Carey Faughs, 23/04/17 at 3pm. 2nds Camogie at home to Ballycran,24/04/17 at 7.15pm. 2nds Hurling at home to Ballycran, 24/04/17 at 7.15pm. U16 Camogie at home to Bredagh, 25/04/17 at 7pm. All fixtures are subject to change, keep an eye on Facebook.  ALL SUPPORT WELCOME.
Club Charities 2017 - the committee have chosen WE CANCERVIVE and AWARE NI, as the 2 Charities the club will support this year. These organisations support the 2 biggest illnesses in our country.
Primary School Disco – is on Friday 21st April at 7.30pm to 9pm. £2 entry. Let your children end the Easter Holidays with a dance and bit of fun. Everyone welcome.
Down Scholarship – anybody looking for a form to complete for this email niallm15@hotmail.co.uk. They must be returned by Friday 21st April. 
Changing Rooms – must be kept clean and tidy, it is the responsibility of all managers and players to adhere to these rules. Thank you.
Sticks and Helmets – can be purchased from Conor Braniff on 07753412554
Season Tickets – are now available at £30.00. This will be for Senior and Intermediate Camogie, Senior and Intermediate Hurling. If you don't have a Season Ticket you must pay at the gate.
Cul Camp 2017 – is on Monday 3rd July to Friday 7th July. More details to follow.
New Membership Fees – can be viewed on Facebook and the Club Website. There is an increased amount, as agreed at the AGM. PLEASE PAY MEMBERSHIPS ASAP.
Thank you – to all those who have been maintaining our grounds and pitches for the start of the season. Your work is vital and much appreciated by all. A great job is always completed.