The Late Barney Carr
Tuesday 30th November 2021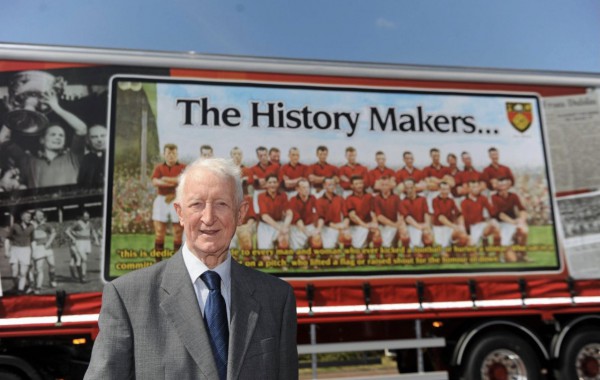 Coiste Chontae an Dúin and Down GAA are saddened to learn today of the death of Barney Carr, team manager of our All-Ireland winning teams of 1960 and 61, and a man who gave a lifetime of service to the GAA with his beloved St Peter's in Warrenpoint and to his county as a player, team manager and administrator.
Barney was a man steeped in the GAA. His father had played for Down back in 1914, as had his brothers in later years. Barney himself was born in 1923 and he played Gaelic football in the Abbey CBS and gained his first honours playing with St Peter's, winning a Junior Championship in 1940 before going on to win a Down Senior Football Championship in 1943 when Warrenpoint defeated Bryansford after a replay. 
Barney soon came to the notice of the county selectors, playing Minor and Junior Football. In 1944 Barney progressed to the senior ranks and was a member of the Dr McKenna Cup winning team - the first provincial trophy that the county won. In 1944 that was a big achievement and Barney was joined on the team by his brother Hugh. 
Barney would go on to win three senior championships with Warrenpoint in 1943,1948 and 1953. After his playing days were over, he became involved in administration with the South Down Committee and then the County Committee. He also became known as a correspondent for the Frontier Sentinel, where his contributions were made under the name of Linesman - this gave Barney the opportunity to sow seeds for debate and explore the direction in which Down could travel.
The concept of a team manager was new to the GAA, and in 1958 the County Committee appointed a three-man selection committee of Maurice Hayes, Brian Denvir and Barney Carr to take charge of the senior team. In 1959 Barney was appointed team manager - this was a big step forward in the history of Down GAA and would be a platform for Down to move forward.
The Down team of 1960 and 61 were renowned throughout Ireland and beyond for their style and flair. Barneys approach as team manager was to allow the players to play with freedom and to make use of the space that they found themselves in. They captured the imagination of people and they brought such pleasure to Down followers everywhere. 
There is an iconic picture of Barney in the closing stages of the All-Ireland Final of 1960 signalling that there were three minutes remaining; three minutes until Down would make history and be the first team from the Six Counties to win the Sam Maguire Cup. 
Barney Carr as team manager was the man who helped make that happen. He quietly did his job and he did it efficiently. He made a difference to the lives of many as a player and as a manager. In the history of Down GAA, he will be recorded as an iconic figure, as he was the man in charge when Down were Kings and double All Ireland Winners. 
He retained a great lifelong interest in his club and in his county. He was President of his club and was also a Trustee and it is fitting too that he should have been privy to the new development to take place at Páirc Liam Uí Ír, as he was a man of vision and without that vision Warrenpoint and Down would have been poorer places today.
To his son Hugh, daughter Louise,  daughter in law Susan, grandsons Eoin, Eanna and Iarlaith, his brother Paddy, and remembering too his late wife Anne and Son John, we offer our deepest and heartfelt sympathy on the death of a much-loved father, grandfather, father-in-law and brother. To the Carr family circle and the Gaels of Cumann Pheadair Naofa, we offer our condolences on the loss of an outstanding son of Down.
Ar dheis Dé go raibh a anam
Funeral Arrangements for Barney Carr
Carr (Warrenpoint) 30th November 2021, peacefully at home, Bernard Ross (Barney) beloved husband of the late Anne (nee Polley) and loving father of Hugh, Louise and the late John, father-in-law of Susan and devoted granda of Eoin, Éanna and Iarlaith. 44, Summer Hill, Warrenpoint.
May his soul rest in peace.
Barney's remains will repose at his home until removal on Thursday at 6.15pm arriving at St. Peter's Church, Warrenpoint for 6.30pm. Due to covid regulations the house is restricted to family and close friends please.
Requiem Mass for Barney will take place on Friday at 12noon followed by interment in St. Peter's Cemetery. Numbers in the Church are limited and Mass can be viewed live on webcam (churchmedia.tv).
Deeply regretted by his loving son, daughter, daughter-in-law, grandsons, brother Paddy, nephews, nieces and entire family circle.
Go raibh leaba aige i measc na Naomh.
Donations in lieu of flowers please to St. Vincent de Paul Society c/o McAnulty Funeral Directors, 35, Church Street, Warrenpoint. BT34 3HN.