'The power of sport, that togetherness, the bond you create… you can't put a price on it'
Friday 23rd October 2020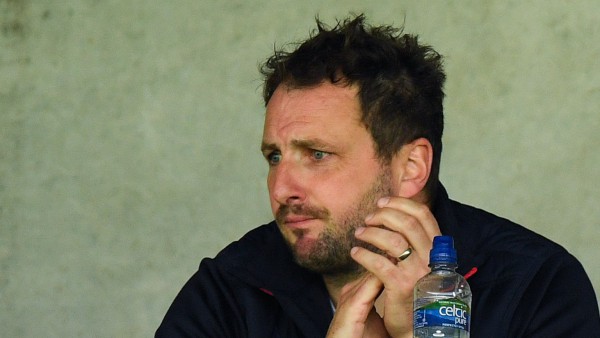 STEVEN Poacher isn't somebody who normally needs a buzz to feed off, but even the lively Newry man was shaking his head in disbelief as he walked from the field at Pairc Esler on Tuesday night.
Alongside manager James McCartan, Poacher and Mark Poland have been coaching the Down minor panel as they built towards tomorrow's long overdue Ulster Championship opener against Fermanagh.
"When I left training, and Polie was the exact same, we were both buzzing.
"The lads were really looking forward to it, and that was probably as a result of what they have been through this year already and what they've had to endure as a group of young people.
"This was their moment now, and you could sense the excitement. Their first time representing Down, the same for any of the boys on any of the other county panels, it's a massive thing."
Fresh from a dynamic session, the players had been due to receive their gear for the game last night. Instead though, they – like their counterparts across the country – are locked in limbo.
On Wednesday, the GAA confirmed that minor and U20 inter-county competitions had been paused "until further notice" after the Irish government moved to level five restrictions in dealing with Covid-19.
As a result, the U20 football Championship final between Dublin and Galway will not take place until a later date, while the eight counties preparing for Ulster MFC quarter-finals tomorrow have also seen something they had worked towards for months snatched away at the last.
The knock-on effect to young people's physical and mental wellbeing, Poacher feels, has been overlooked in the midst of the ongoing pandemic. Not just in terms of the postponement of the minors' campaign, but "sport across the board".
"For 20 years I've been teaching and I've seen the impact of mental health," said Poacher, a school teacher at St Joseph's High School in Newry.
"In 2007, we had 13 suicides in 12 months in Mourne when I taught in St Columban's, Kilkeel. And what helped turn that community that year was when our school went on to win an All-Ireland vocational schools title – the power of football, the power of sport, that togetherness, the bond you create… you can't put a price on it.
"I'm not just talking about inter-county minor football, I'm talking about sport across the board. We had a year 11 team who walked through their group in the Ulster Colleges. St Joseph's haven't had a team like it in years.
"We were in an Ulster semi-final last March and it was pulled. Now these lads are in their last year in school, they're probably not going to see any schools' football this side of Christmas, next year there's going to be serious pressure on them to get exams done, coursework, modules.
"All of a sudden football could be pushed aside again. Children have many talents that are hidden in the classroom. School life is more than just education – there's so much more to it, whether it's sport, drama, art, music.
"That's the annoying thing for me, that when they come into school they're not allowed to do these things but they can sit in a small room with poor ventilation for 30 hours a week, they can travel in buses together... it doesn't add up."
It is these mixed messages, Poacher feels, that are adding to a growing sense of frustration.
The constant shifting of the ground means it is unlikely to become clear for some time when, or whether, these "paused" games will go ahead. Yet Poacher feels it is important that some clarity is sought, even in these most unpredictable times.
"For me, the U20s and the minors are probably less of a risk than senior football where there's a win-at-all-costs mentality, so there's a stronger chance of team meetings, using changing rooms...
"Yet here we are, reading the words paused, postponed - just give us it in black and white, why it's not being played and what we're going to do going forward. If we're allowed to train, I would happily have those lads together again tomorrow night.
"We had incidents during the first lockdown with the minor team where parents contacted us and asked could we host Zooms or do something with the boys because their sons were getting very down and very depressed.
"We had a bit of craic with them, we kept them going, but over the summer the weather was good too so they were outside doing their bits of cardio, doing their weights in the garden. All of a sudden we're into the dark days of winter.
"It's difficult for us as adults too - I'll find it difficult over the winter not having anything - but young people need to be participating in sport for their own wellbeing. I've seen how important it is through the years - and never moreso than now."