Tipperary's physical edge can see them bounce back to see off Down in Newry
Saturday 8th June 2019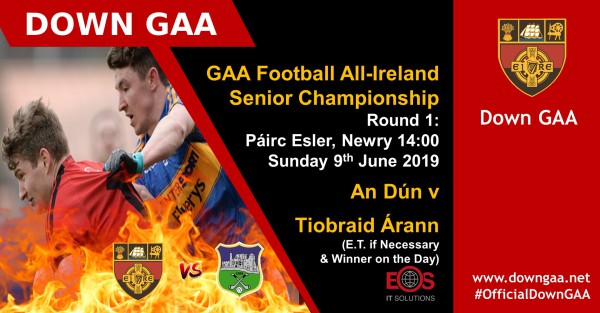 Tipperary's physical edge can see them bounce back to see off Down in Newry
Paddy Tally's Down bid to bounce back from their Ulster Championship exit at the hands of Armagh when they face Tipperary in tomorrow's round one qualifier. Picture by Philip Walsh.
     
Neil Loughran, Irish News
 
Tipperary's Michael Quinlivan was starved on decent supply against Limerick, but will be a major threat for Down tomorrow. Picture by Ian Maginess
All-Ireland Qualifying round one: Down v Tipperary (tomorrow, 2pm, Pairc Esler)
WHEN Down were pulled from the hat after Tipperary, followers of the Mourne County had reason to be happy enough – because the morning after the evening before there was hurt, but there was also hope.
The day before the qualifier draw was made, Paddy Tally's men had lost out to neighbours Armagh in an Ulster Championship classic, an Andrew Murnin goal sparking the Orchard revival.
Derby disappointments are often the most bitter of pills to swallow, especially when they come after 90-plus minutes of topsy-turvy action.
During that time the game was lost, won then lost again, yet Down supporters came away buoyed at least by some of what they had seen as Tally continues to put his stamp on the team.
The performances of James Guinness, Cory Quinn and Paul Devlin from the bench were encouraging as the Mournemen battled back into contention having trailed by five, as well as losing Caolan Mooney and goalkeeper Rory Burns to red and black cards respectively.
Had Mooney and Burns stayed on the field, you fancy Down might just have finished the job.
Bustling forward Connaire Harrison, a 2017 Allstar nominee, made little impact through the National League but was more like himself against the Orchardmen.
Harrison and Pat Havern both looked sharp and capable of inflicting damage any time Down went direct; unfortunately the Mournemen didn't utilise that threat nearly enough against a creaking Armagh rearguard.
Those positives, allied to Tipperary's shock defeat at the hands of lowly Limerick, compounded the notion - cautiously embraced - that they were as good a draw as Down could have hoped for.
And when you look around at who else was about, it's hard to argue – yet this still looks a game fraught with potential problems for the Mournemen.
Home advantage, granted on the basis of Tipp's higher League standing despite being second out of the hat, is welcome. However, having lost their last two in Newry - against Louth, ending their Division Three promotion hopes, and to Armagh the last day – this may not be such a significant factor.
The fall-out from Tipperary's capitulation to Division Four Limerick can also be viewed a couple of different ways. The first is that, like Down, they came into the Championship with a League hangover.
The Mourne County enjoyed a generally consistent campaign but suffered the disappointment of missing out on promotion at the final hurdle. Tipp's, meanwhile, finished up with relegation to the third tier after a dire final day loss to Clare.
The nature of their defeat to 9/1 outsiders Limerick - going down by seven points at Semple Stadium - was seen as further proof that, having reached the heady heights of an All-Ireland semi-final just three summers ago, this is a county enduring a steep decline.
After all, Limerick finished the League as the second lowest-ranked team in the country, their only Division Four wins coming against London, by a point, and Waterford.
Boss Liam Kearns has since admitted the decision to hand Robbie Kiely, Shane O'Connell, Bill Maher and Josh Keane their first competitive starts of the year had back-fired.
Yet, on the day, their problems ran deeper still as a rudderless unit was out-fought and out-thought.
Limerick played a sweeper to counter-act the twin threats of captain Conor Sweeney and Michael Quinlivan, but the delivery into them was well below the standard expected.
At midfield, Tipp were cleaned out, while they couldn't get to grips with the driving runs of Ian Corbett from deep. Therefore the loss of a key player like Mooney could be significant in a sector where their opponents are clearly vulnerable.
The other way of looking at the loss to Limerick it is that Tipp cannot possibly be so bad again. Had they just been edged out, perhaps the cracks could have been papered over, defeat put down to a bad day at the office.
But what transpired was embarrassing for players and management; it would be foolish not to expect a reaction tomorrow from a team that, little over 12 months ago, was pushing hard for a place in Division One.
Kearns will have looked at how the big, physical full-forward lines of Laois and Louth in particular caused problems for Down's full-back line during the League. Rian O'Neill benefitted from some great service during the first half of Armagh's Championship win in Newry, and the Mourne County struggled for an answer to fielding ability and pace.
O'Neill is still a rookie, Quinlivan has been there and done it. He is rightly regarded as one of the most potent forwards in Irelands. Both he and Sweeney stand 6'3 tall and if Tipp can get it right out the field, where they failed so miserably against Limerick, Down could be in for a tough afternoon.
Tally's options for dealing with such big units are fairly limited, and it is likely Kevin McKernan will start on Quinlivan, possibly Ruairi Wells on Sweeney, with at least one other - perhaps Benny McArdle, should he come back into the fold – offering further protection in the face of an expected aerial bombardment.
The Mournemen also need to get their kick-outs sorted. It proved their undoing in the Louth game that ended their promotion hopes, and is an issue that has been central to their struggles during recent years.
Conor Maginn barely got on the ball before being withdrawn after half-time against the Orchard and Kilcoo's Devlin might get the nod there, with James Guinness also making a strong case for inclusion from the start.
Tipp's defensive vulnerabilities were there for all to see as Limerick plundered three goals against them, and in Harrison, Havern, Donal O'Hare and Jerome Johnston, the Mournemen have the firepower to trouble any defence.
The problem is getting them in the positions to inflict most damage. Kearns will know what to expect from Down, and will have seen how well long balls into the square worked against Armagh.
Four weeks on from the Limerick debacle, he will also know that if they can cut off the supply lines and pressurise Down out the field, his men possess the physical edge that can see them live to fight another day in this year's Championship. Tipp by two.