Ulster GAA chief McAvoy delighted as Down champions Kilcoo prepare for All-Ireland final
Tuesday 7th January 2020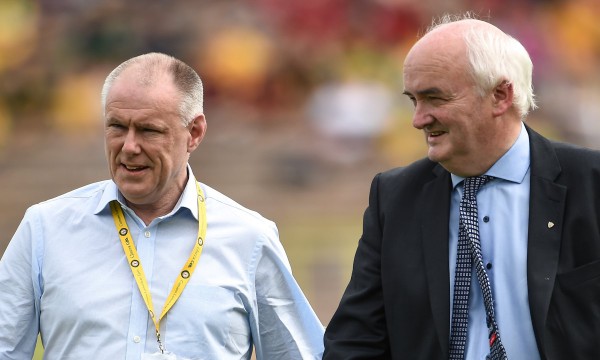 ULSTER GAA secretary Brian McAvoy was in Croke Park cheering on his native Burren back in 1988 and he'll be doing the same on January 21 when Kilcoo bridge a 32-year gap by retracing the St Mary's outfit's steps to the All-Ireland Club final.
Burren beat Roscommon's Clan na Gael back then and Kilcoo's Magpies bid to become only the second club from Down to win club football's ultimate prize when they take on three in-a-row chasing Corofin in the decider. Bryansford are the only other club from the Mournes to make the finale – they were finalists in 1971.
"It's great to have an Ulster team in Croke Park and I suppose, if I wear my parochial hat, it's great to have a Down team at Croke Park," said McAvoy after Kilcoo's impressive win over Dublin's Ballyboden on Saturday evening.
"It's a long time since a Down team has been in an All-Ireland final – it's 32 years – so this has been a long time coming. Kilcoo showed their character, I always knew they would have great heart and would play with passion and while Ballyboden had some very good individual footballers, I think the collective passion and commitment that Kilcoo had won through.
"The second half was a matter of guts; playing into a strong wind they controlled the game and fair play to them."
After losing two finals and two semi-finals, Kilcoo won their long-awaited first Ulster title in December by beating Donegal's Naomh Conaill and McAvoy feels that Mickey Moran's side will flourish after that breakthrough.
"Winning Ulster was a weight off their shoulders because they've been knocking on the door for so long," he said.
"Ok, they were playing an All-Ireland semi-final but you could almost feel that the pressure had been lifted and they showed that. From the first whistle you could see that they were the hungrier team, they wanted it more and they fully deserved their win. The end was hearts-in-mouth stuff but over the hour they were the better side and the deserved their win."
Next up is Galway's Corofin. The Connacht champions reached their third final in-a-row thanks to their 1-10 to 0-7 win over Cork's Nemo Rangers. Now Kevin O'Brien's side stand on the threshold of an unprecedented treble.
"They're going for three in-a-row and they'll have their own ambitions but in Kilcoo there are playing a team that is full of running – they have quick hands and a great running style and Corofin have a lot to think about," said McAvoy.
"They'll probably go in as favourites but if they win their three in-a-row they'll have to earn it because Kilcoo won't be easily beaten."
Article from Irish News
Photo: SportFile