Ulster IFC Final: Moy 0-9 Rostrevor 0-8
Monday 27th November 2017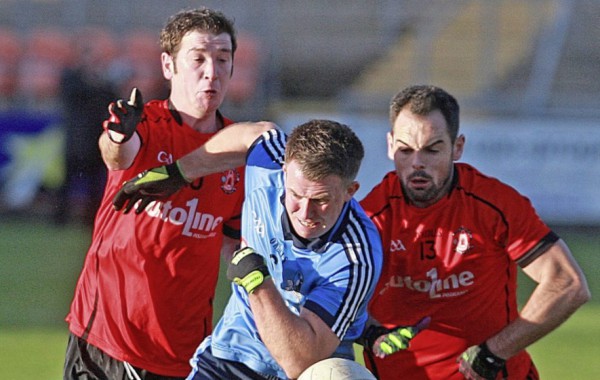 The loss of Conor Magee and James Rice to red cards between the 51st and 54th minute torpedoed Rostrevor's chances of snatching the game out of the fire.
Rostrevor's rigid defensive mechanism served to frustrate their opponents for the greater part of the first half, their ability to pirate possession and then mount sharp counter-thrusts highlighting their cohesion.
Moy may have ambled rather than spurted out of the traps but three Sean Cavanagh points from frees were responsible for ensuring the sides were level at 0-5 each at half-time.
It was in the third quarter that Moy made their pitch for victory, Cavanagh joining Harry Loughran and Eunan Deeney in firing over points.
They may only have scored once more - a Declan Conroy point in the 47th minute - but Moy thwarted Rostrevor's efforts to salvage the game. Indeed, the handicap of playing out the closing phase of the game without Magee and Rice proved too much.
Moy: N Brady; P Mackle, T McNicholl, T Conlon; M Gribbin, N Conlon, E Deeney 0-2; C Cavanagh, T Loughran; D Conroy 0-1, H Loughran 0-2, A Currie; R Coleman, S Cavanagh 0-4 (3f), C Duffy. Subs: E Rafferty for Currie, D McKeown for Duffy (51), P Lavery for Conroy (52), K McQuaide (62), A Donaghy for T Conlon (62). Yellow card: T Conlon (59).
Rostrevor: J Parr 0-2 (2f); J Rice, D McElhinney, J Farrell; J Donaghy, Christopher Magee, J Connolly; N Farrell, Conor Magee 0-1; B Keenan, S Parr, D Magee; C Doyle, P Kane 0-1, C Mooney 0-4 (3f). Subs: J Fegan for Farrell (43), J Morgan for Doyle (45), C Gordon for D Magee (55), C Owens for C Magee (61). Yellow cards: C Magee (18), Kane (19), Rice (45). Red cards: Conor Magee (50), Rice (54).
Referee: Niall McKenna (Monaghan)
Belfast Telegraph