Ulster SFC: Orchard pip Mourne men in extra-time cracker
Monday 20th May 2019
Armagh came out on top in a thrilling derby encounter at Newry, where they pipped Down by 2-17 to 3-13 after extra time.
https://hoganstand.com/Down/Article/Index/299378
The reward for Kieran McGeeney's first championship victory as Orchard County boss – achieved at the fifth time of asking – is a provincial semi-final date with Cavan next month.
Freshly introduced, Andrew Murnin got on the end of a long delivery to provide what proved to be the winning goal in the 14th minute of extra time, first of all slotting an equalising point before his major made it 2-16 to 2-13.
The excellent Rian O'Neill supplied the insurance point and it was just as well he did as Paul Devlin struck the third Down goal in stoppage time at the end of extra time. But it proved too little too late for the spirited home team, who had displayed bags of character to almost snatch victory from the jaws of defeat.
Armagh led by five points with four minutes to go in normal time but, despite being a man down, the Mourne County forced extra time with a Donal O'Hare goal followed by points from Devlin and James Guinness.
Pat Havern's 23rd-minute major assured the hosts of a narrow 1-5 to 0-7 interval advantage, although they were reduced to 14 men when Caolan Mooney was dismissed in stoppage time before the break.
O'Neill pointed for the visitors in the opening minute and quickly added a second only for the Mourne County to twice draw level, O'Hare (free) and Jerome Johnston on target. Conor Poland cancelled out Jamie Clarke's effort and the sides were level for the fourth time when Connaire Harrison hit back following a James Morgan effort.
The Orchard County led for the fifth time courtesy of O'Neill's third point but Down then hit the front for the first time in real style when Havern was on hand to flick Gerard Collins' delivery to the Armagh net – 1-4 to 0-5.
O'Hare's free made it a three-point match but Clarke and O'Neill posted the last two scores before the break, Mooney shown a straight red card in between.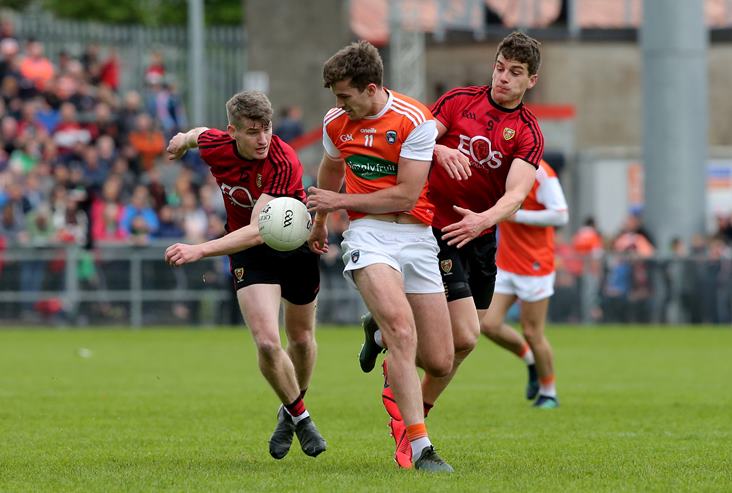 Down's Conor Maginn and Conor Poland with Ethan Rafferty of Armagh
Aidan Nugent equalised when the action resumed but Havern edged the home team back ahead. When O'Neill tied the scores up again, this time it was O'Hare (free) who restored Down's lead with 47 minutes played.
The losers lost goalkeeper Rory Burns to a black card 20 minutes from the end and were behind at the three-quarters juncture courtesy of quickfire Armagh points from O'Neill and wing back Ryan Kennedy. Finally working out how to make the extra man count, the visitors assumed a four-point cushion when Mark Shields netted, Stefan Campbell's point cancelled out by Conor Francis, O'Neill's 65th-minute free making the game look safe as the visitors now led by five 1-13 to 1-8.
There was a dramatic conclusion to the regulation 70, however, as O'Hare's goal handed the hosts a lifeline with four minutes left and substitute Devlin swung over an injury-time free before fellow replacement Guinness tied the scores up once more in the third of five additional minutes. Clarke and Campbell missed late chances to win it for Armagh and the game went on into the late evening...
Down were restored to the full complement for extra time, with Ryan Mallon replacing Mooney and they hit three unanswered points during the first ten-minute period, Devlin (free), Guinness and Barry O'Hagan on target before Kennedy landed a long overdue Armagh point at the other end in injury time, bringing an end to the hosts' remarkable unanswered 1-5 scoring streak.
Campbell kept the Armagh rally going with a point at the start of the second additional period and Murnin would soon step forward as the Orchard County match-winner in a brilliant 100-minute epic.
Armagh: Blaine Hughes; Patrick Burns, Brendan Donaghy, Paul Hughes; Ryan Kennedy (0-2), Aaron McKay, Aidan Forker; Charlie Vernon, Jarlath Og Burns; Jemar Hall, Ethan Rafferty, Aidan Nugent (0-01); Rory Grugan, Rian O'Neill (0-8, 4f), Jamie Clarke (0-2). Subs: James Morgan (0-1) for Burns (7mins), Mark Shields (1-0) for Vernon (31), Joe McIlroy for Hughes (45), Stefan Campbell (0-2) for Rafferty (46), Stephen Sheridan for Kennedy (65), Greg McCabe for Hall (68, BC) Vernon for Forker (FT), Kennedy for Nugent (FT), Ben Crealey for Sheridan (77), Andrew Murnin (1-1) for McCabe (HT/ET), Rafferty for Grugan (87).
Down: Rory Burns; Ruairi Wells, Kevin McKernan, Gerard Collins; Conor Francis, Darren O'Hagan, Ryan McAleenan, Caolan Mooney, Conor Poland (0-1); Connaire Harrison (0-1), Conor Maginn, Daniel Guinness; Jerome Johnstone (1-2, 1f), Pat Havern (1-0), Donal O'Hare (0-3, 2f). Subs: James Guinness (0-2) for Wells (26mins), Owen McCabe for Poland (45, blood), Barry O'Hagan (0-1) for Maginn (48), Mark Hynes for Burns (51, BC), Paul Devlin (1-2, 2f) for Johnstone (61), Corey Quinn for Havern (61), Owen McCabe for Poland (68), Poland for J Guinness (81), Havern for Mallon (86), Johnstone for O'Hare (89).
Ref: Anthony Nolan (Wicklow)