Watson to take part in All-Ireland U16 Poc Fada final
Thursday 27th July 2017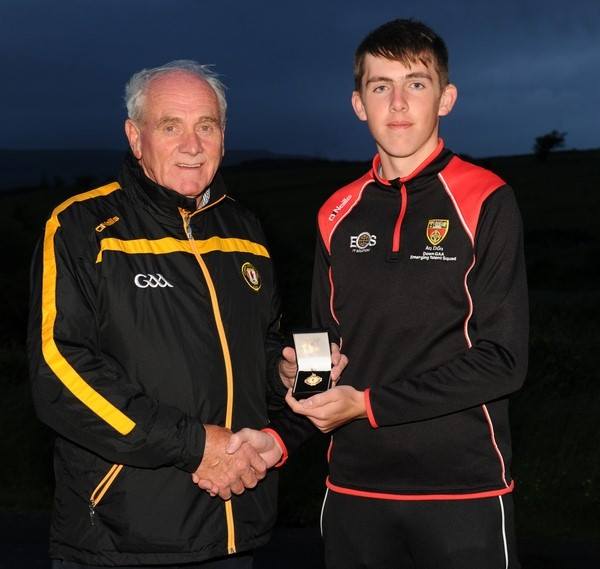 Watson to take part in All-Ireland U16 Poc Fada final
The All-Ireland Poc Fada finals in hurling and camogie will be held on the Cooley Mountains on Saturday August 5th. The competition was first held in 1960 and following a short hiatus from 1970-1980, it returned in 1981 and has been ever-present on the National calendar since.
Down will be represented at U16 level by Ciaran Watson who won the Ulster competation last month.
Ballygalget's Ciaran Watson won a very competitive U16 Ulster competition finishing on 14 pocs 98m.
Across all competitions hurlers and camógs from Clare, Louth, Antrim, Derry, Laois, Dublin, Galway, Limerick, Tipperary, Kilkenny, Down, Roscommon, Offaly, Cork and Meath will have the opportunity to compete for an All-Ireland title.
M. Donnelly GAA All-Ireland Final Proceedings will get under way at 11.00am on Annaverna Mountain, Ravensdale, Co. Louth on Saturday, August 5th.
Competitors
Senior Hurling
1. James McInerney (Clare)
2. Gerard Smith (Louth)
3. Donal McKernan (Antrim)
4. Ruairi Convery (Derry)
5. Eoin Reilly (Laois)
6. Fintan O'Brien (Dublin)
7. Mark Fahy (Galway)
8. Tadhg Haran (Galway)
9. Brian O'Loughlin (Clare)
10. John Chawke (Limerick)
11. Brendan Cummins (Tipperary)
12. Eoin Murphy (Kilkenny)
U-16 Hurling
1. Ciaran Watson (Down)
2. Adam Donnelly (Roscommon)
3. Cathal Kiely (Offaly)
4. Ryan Renehan (Tipperary)
Senior Camogie
1. Aoife Murray (Cork)
2. All-Star Pick to be confirmed
3. Orlagh O'Hara (Antrim)
4. Faye McCarthy (Dublin)
5. Sarah Healy (Galway)
6. Áine O'Loughlin (An Clár)
U-16 Camogie
1. Roisin McCormick (Antrim)
2. Abbye Donnnelly (Meath)
3. Maeve Muldoon (Galway)
4. Molly Lynch (Corcaigh)