Down GAA pay tribute to The late PJ McElroy
Saturday 29th October 2022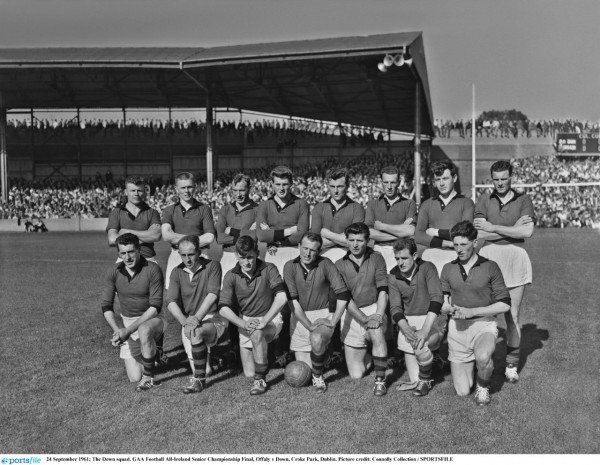 Coiste Chontae an Dúin and the family that is Down GAA are saddened to learn of the death today of PJ McElroy a double All Ireland Winner in 1960 and 61. We extend our deepest sympathy to his sons Declan and Eoin,  daughters Roisin, Orla, Ciara, Patricia, Maeve and Aisling whilst also remembering at this time his late wife Bridget.
PJ first came to prominence with St Colmans College Newry when he featured at midfield on the first Violet Hill Team to win the Mac Rory Cup, he played at midfield alongside Sean Blaney who captained the team and it was to be the first of PJ's many encounters with then St Malachy's Belfast pupil Jim McKeever, indeed when PJ would make his Championship debut for Down in 1953 he would again have a midfield battle with Jim this time against Derry. In 1950 St Colmans would win back-to-back Mac Rory Cups and once again PJ McElroy and Sean Blaney would be the driving force in a one-point win over St Pats Armagh, PJ would also star as Ulster won the Colleges Inter provincial title defeating Leinster in the Final.
As a student in UCD PJ made his Championship debut for Down in 1953 versus Derry in Magherafelt, with the home team winning 1-11 to 2-5, PJ was a regular on the Down team for the next number of years and back playing his Club football with Leitrim Fontenoys, success eluded him until the Ulster Final win of 1959, when he was a sub on the team that beat Cavan. 
In 1960 PJ was at midfield as Down defeated Cavan to win a first ever National League Title and would also feature again in Clones as Down went on to retain their Ulster Title with a victory over the Breffni men again. Whilst he did not play against Kerry in the All-Ireland Final of 1960, PJ had featured in the All Ireland Semi Final and played a key role in ensuring Down would reach the final and win that historic first, Sam Maguire.
PJ regained his place for the Championship of 1961 and was once again at midfield when Down overcame Armagh in the Ulster Final of 1961, this time PJ was playing his Club football with Glenn and as Down prepared to face Kerry in the All Ireland Semi Final, he took up a new position on the edge of the square, where is height and strength added an additional threat to the Down forward line. Down were through to a second All Ireland Final and here PJ would do battle with Greg Hughes the legendary Offaly full back. PJ as always was ready for a challenge and just before half time he rose above the Offaly defence and deftly palmed a perfect ball into the path of Breen Morgan and the ball was finished to the net for Down's third goal. This movement by PJ was described as a masterpiece and Down were to be on their way to a second All Ireland. PJ McElroy had paved the way in 1960 whilst not featuring in the Final,  now in 1961, this giant of a man used all his strength and physique as full forward to ensure that Sam Maguire would return to the Mournes.
PJ would finish his inter county Championship career in the Ulster Final defeat of 1962, he played on Down teams for nine years, he soldiered for the Red and Black when the road was hard and the climb was steep, it was fitting that he should be amongst the men of 1953 who would play such a lead role in 1960 and 61, men like Kevin Mussen, George Lavery, Jarlath Carey and Kieran Denvir had all faced Derry in 1953, when the journey was starting, PJ was part of that generation who helped make Down the proud County that we are today. 
He would win Down Senior Championship Medals with Glenn in 1962 and 1963 and also represented Ulster in 1954 and 1955. PJ was a great man, in so many ways, he had presence and he loved to be amongst his former playing colleagues, sharing stories and just being amongst friends,  he had a great interest in football and in the fortunes of Down, in later years he was very proud as his grandson Finn adorned the Red and Black, progressing through to Senior ranks, the torch had been passed on to a next generation and PJ McElroy had played his part.
Ar dheis Dé go raibh a anam
Coiste Chontae an Dúin are also saddened to learn of the death of Paddy Corrigan of Castlewellan, father of our Referee Gavin, Paddy also acted as an umpire for Gavin for many years and enjoyed his involvement in our games,Club and County,  supporting Gavin in his refereeing career,  we offer our sympathy to his wife Dolores,  his sons and daughters and the entire Corrigan family circle. To the Gaels of Castlewellan we also extend our sympathy on the loss of a good Club man.
We are also saddened to learn of the death of Frankie Wilson, former Antrim footballer and Head of PE at Our Lady and St Patricks Knock, Frankie influenced the lives of many young Down footballers and hurlers as they came under his guidance at Knock and we always appreciated his support in promoting our games in the School and where he could assist in our Clubs as well. On behalf of Coiste Chontae an Dúin and the family that is Down GAA we offer our sympathies to his wife Tara , his children Ella, Luke and Lisa, his mother and father, brothers and sisters and to the School Community of Our Lady and St Patricks at this sad time.