Kilcoo hit high five but McIver seeks more
Monday 26th September 2016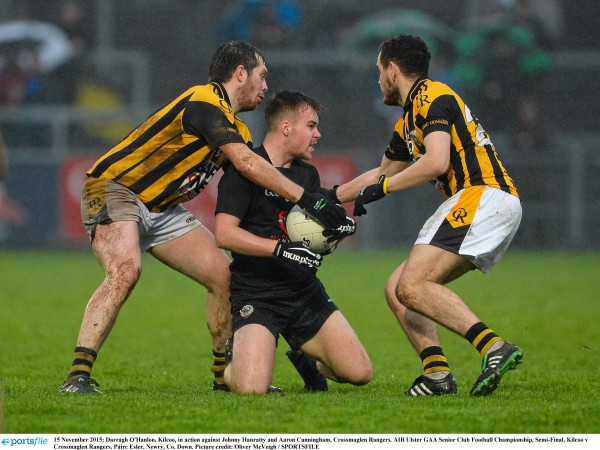 Kilcoo hit high five but McIver seeks more
Down SFC: Kilcoo 3-11 Clonduff 0-9
Just why Kilcoo roared to their fifth Down senior football championship title on the trot and a place in the history books became abundantly clear within minutes of referee Neil Cousins having sounded the final whistle at Pairc Esler in Newry yesterday.
Manager Paul McIver had considerable grounds for being consumed with euphoria, but instead a stark, sharp analysis of what he had just witnessed underlined the standards he has set.
"I was disappointed with the way in which we played and we obviously have things to work on," said McIver.
"On another day we might have maybe conceded a couple of goals near the end and then you never know what might have happened.
"We can play much better than this and that will be our target going into the Ulster Club Championship."
By half-time, Kilcoo were well on the way to further emphasising their status as Down kingpins.
Apart from a sixth minute raid that yielded a point from Barry O'Hagan, the Clonduff attack was rendered toothless by a tough-tackling Kilcoo defence that not only suffocated their opponents but translated defence into attack at blistering pace.
Kilcoo too, lorded matters throughout at midfield where the impressive Feilim McGreevey and James McClean won bountiful possession throughout.
It was a devastating Kilcoo scoring burst between the 18th and 20th minutes that underlined the yawning gap between the sides.
Aaron Morgan's lob completely deceived goalkeeper Jason Brown, Daryll Branagan almost immediately tucked a snap shot into the corner of the Clonduff net and with Ryan Johnston and Conor Laverty sweeping over points, Paul McIver's side were firmly in the driving seat at 2-6 to 0-1.
Indeed, Clonduff could have found themselves even further in arrears at the interval as Kilcoo were to pot only two more points before the break from Martin Devlin and Darragh O'Hanlon, the attack contriving to spurn chances that had they been taken might well have completely crushed Clonduff's spirit.
As it was, Ross Carr's side offered slightly more resistance in the second-half, but it was left to Stephen McConville to underline their efforts by knocking over five frees that allowed his steam to regain a sliver of credibility.
With Barry O'Hagan representing the only real threat from play, Clonduff's inability to take scores was palpable throughout yet in the closing minutes they spurned two goal chances that might well have given the final score a rather more respectable look from their perspective.
Yet even with five Down titles in their locker, Kilcoo will approach the Ulster Club Championship with a certain amount of trepidation.
This is a competition which has not borne fruit for the club to any great extent and manager McIver is conscious that yesterday's opponents did not offer his side a real challenge that might have served them to prepare them for the rigours ahead.
"Obviously winning county titles is very important but when you reach this stage you like to go on and test yourself against the best teams in the province," said McIver.
Even the loss of Eugene Branagan to a red card did not discomfit in the latter stages. They showed their considerable strength in depth when Ceilum Doherty stroked home a third goal after a flowing move that left the Clonduff defence in disarray - and not for the first time either.
Substitutes Jerome Johnston and Gerard McEvoy showed that they are now chasing starting places - another bonus as McIver prepares to set out his stall for a more demanding itinerary.
Kilcoo: N Kane; N McEvoy, D O'Hanlon 0-1 (f), N Branagan; D Branagan 1-0, A Branagan, A Branagan; J McClean 1-0, F McGreevey; C Doherty 1-0, A Morgan 1-0, R Johnston 0-1; M Devlin 0-4, P Devlin 0-2 (1f), C Laverty 0-1. Subs: E Branagan for Aidan Branagan (17), J Johnston for McGreevey (40), Gerard McEvoy for R Johnston (44), J J McLoughlin 0-1 for P Devlin (46), S O'Hanlon for McClean (53), Gary McEvoy for M Devlin (58). Yellow cards; N Branagan (36), D Branagan (50). Black card: Eugene Brangan (54).
Clonduff: J Brown; D O'Hagan, S O'Hagan, R Lively; B Britton, R Grant, P Lively; A Carr, N Tumilty; K Trainor, S McConville 0-5 (all frees), P O'Hagan 0-1; C Og O'Hagan, R Branagan, B O'Hagan 0-3. Subs: F McConville for Trainor (28), C Carr Tumilty (28), S Ward for C Og O'Hagan (45). Yellow card: Tumilty (23).
Referee: Neil Cousins (An Riocht)
Belfast Telegraph