Morgan Fuels Down SHC R5
Monday 5th September 2022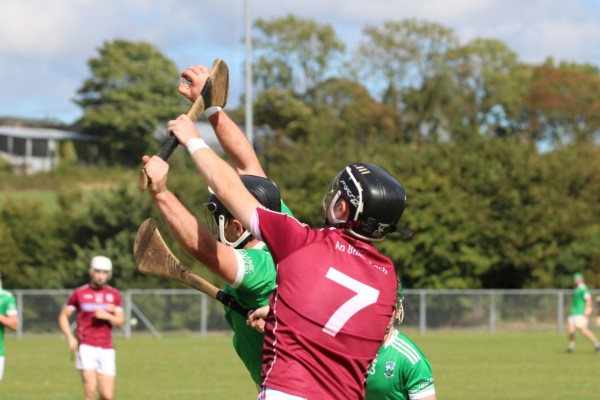 Morgan Fuels Down SHC R5
Bredagh 3-17 -  Ballygalget 1-18
Two goals inside the opening 15mins were enough to see Bredagh establish a lead that was never threatened. Matt McAreavey finishing off a good move down the left flank & a Danny Hughes strike after winning a high ball outside the 21 gave the hosts a 2-4 to 0-4 lead. Ballygalget had opened the scoring with a Jordan Doran point inside the first minute, but had to rely on the accuracy of Cormac Coulters dead balls to keep in touch.
Ballygalget were severely hampered with four of the starting team either sidelined through injury or holidays but did manage to mount a fight back inside the third quarter when Cormac Coulter chased what looked to be a ball going wide, won possession, stepped inside and finished neatly to the net to make it a three-point game. But when Aodhan Donaghy struck hard & low past Eoin Clarke six minutes later it had left Ballygalget too much ground to make up as the sides traded scores for the remaining ten minutes.
The results now mean that Ballygalget will travel to Portaferry and Bredagh will be hosted by Ballycran in the two Morgans Fuels SHC semi-finals, both to be played in three weeks' time, 25th Sept.
Bredagh: S Hughes 0-7, D Hughes 1-4, A Donaghy 1-3, M McAreavey 1-1, M Patterson 0-1, C Ferry 0-1
Ballygalget: C Coulter 1-9, J Hughes 0-3, J Doran 0-2, M Fisher 0-1, D Doran 0-1, O McDermott 0-1, E Coulter 0-1
Ballycran 4-21 - Newry Shamrocks 0-9
Although Ballycran ended up winning by 24pts, this does not reflect how close this game actually was. Paul Sheehan opened the scoring at McKenna Park, with Scott Nicholson equalizing second later for the 'crans and this seemed to be the running order of play until Liam Savage flicked the sliotar to the Shamrocks net with five minutes left. Nicholson & Michael Hughes added two further points, while Sheehan chipped in with Newry's last score of the half to leave the score 1-9 to 0-6 at half time.
Ballycran had the wind in the second half and made the most of it with Conor Woods knocking over a long-distance strike in reply to Sean Campbells neat score off his left. Ballycran stepped up a gear and goals quickly followed, Stuart Martin 8mins & a freakishly long strike from Brett Nicholson inside his own 45m ten minutes later effectively killed the contest with Sheehan scoring what proved to be their last score midway through the half. Shamrocks never gave up and were unlucky not to have raised two green flags of their own, but the final pass was either snuffed out or went astray. James Clarke added Ballycran's last goal with two minutes remaining to ensure that they now have home advantage in the Semi-final with Bredagh.
Ballycran: S Nicholson 0-9, L Savage 1-4, B Nicholson 1-1, J Clarke 1-1, S Martin 1-0, N Breen 0-2, M Hughes 0-2 C Woods 0-1, E Ball 0-1
Newry Shamrocks: P Sheehan 0-7, J Duggan 0-1, R Campbell 0-1, S Campbell 0-1