Parador Lodge Intermediate Football Championship
Saturday 30th September 2023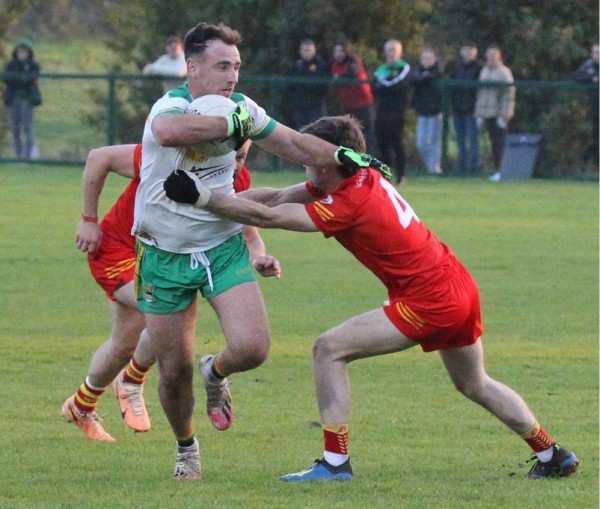 In the Parador Lodge intermediate football championship the draw worked favourably for the two pre-tournament favourites, keeping Rostrevor and Liatroim apart. Rostrevor travel to Liatroim on Saturday evening to take on St John's. After a good Division three campaign the Johnnies were tipped for big things by some but struggled in the early rounds, beating Annaclone on penalties and then losing to An Riocht by a goal (a side who Rostrevor hammered a couple of weeks ago). An extra time win over Newry Shamrocks will buoy St John's but they have their work cut out against Benny Coulter's reds.
Losing to Shamrocks was a defeat that sparked Rostrevor into life. Several key men were back in the team for the round three game against Drumgath and, after a slow start in the quarter-final some superb attacking play led to them firing a spectacular total of 6-10 in dispensing An Riocht. A similar level of attacking play would see them through comfortably here but performances like that are hard to replicate. That said, there should be enough quality in the ranks for Rostrevor to get the job done.

The Fontenoys play on Sunday afternoon against Annaclone in Castlewellan. Whether they took their eye off the ball against Darragh Cross in the quarter final or just knew they'd do enough to win remains to be seen. They had hammered Darragh early in the competition but two weeks ago got past them by just five points. With the hurling being played on alternate weeks to the football the freshness, or lack thereof, of the Liatroim dual players versus other clubs who don't have that same commitment could yet prove a determining factor.
Annaclone will be keen for a big scalp. They almost took Rostrevor at the quarter-final stage last year and this year beat Ballymartin handily having overcome Bosco previously- two big wins to help them recover from that first round penalty shootout defeat to St John's. They've found their shooting boots and though they will be well aware of the size of the task in hand and know that Liatroim will have to have a bit of an off day - should that happen, Annaclone will be waiting in the wings.