Ulster Club JHC Newry Shamrocks book final place against Eoghan Rua
Sunday 27th October 2019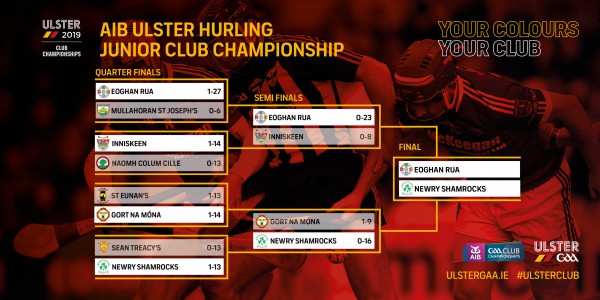 Ulster Club JHC: Newry Shamrocks book final place against Eoghan Rua 
Newry Shamrocks (Down) and Eoghan Rua (Derry) have qualified for this year's Ulster Club JHC decider.
Newry Shamrocks overcame Gort na Mona of Antrim by 0-16 to 1-8 in Ballela to secure a first ever final appearance.
Meanwhile, Eoghan Rua got the better of Inniskeen (Monaghan) by 0-23 to 0-8 at Lamh Dhearg and they will be bidding to claim the title for a second time.
Newry Shamrock Scorers: Artie McGuiness (0-4), Eoin McGuinness (0-3), Jordan Murphy (1-0), Ruairi Campbell (0-2), Ryan Courtney (0-1), Niall Lennon (0-1), Sean Campbell (0-1), Conor McPolin (0-1).