Burns understands why players opt out
Tuesday 9th January 2018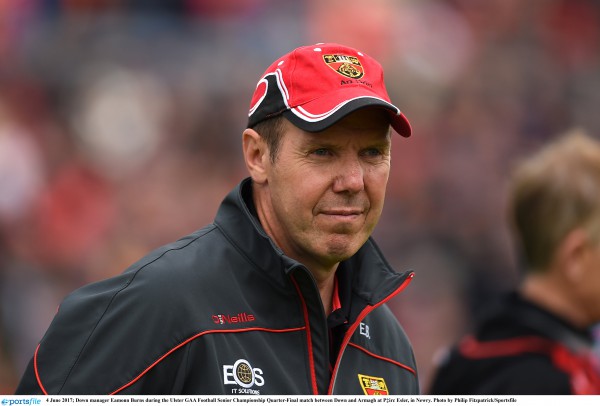 Down manager Eamonn Burns has no problem with players putting their families and careers before gaelic football.
The Mourne County are going into the 2018 season shorn of five key men - Aidan Carr and Mark Poland have retired, while three others are unavailable due to work commitments - and All-Ireland winners Burns accepts that no county footballer can neglect his responsibilities:

"We've lost a few. We had two retirees and we've lost a couple of boys that couldn't commit this year through work commitments - Conaill McGovern, Joe Murphy and Cathal Magee," Burns told The Irish News.
"They are all boys we'd like to have but, as I've said to people, they're not tied to a contract and their family and their career comes first.

"Two of the lads retired which was their call, it was understandable and I left it up to them. We have brought in some of the U21s to bolster the panel a bit and we'll give those lads a run through the McKenna Cup and see where they go."
Having lost their opening-round fixture against Armagh, Down are away to Derry in the McKenna Cup tomorrow night before hosting UUJ in their rescheduled second-round tie at Burren on Sunday.