Down GAA Dual Race Day a major success
Friday 13th July 2018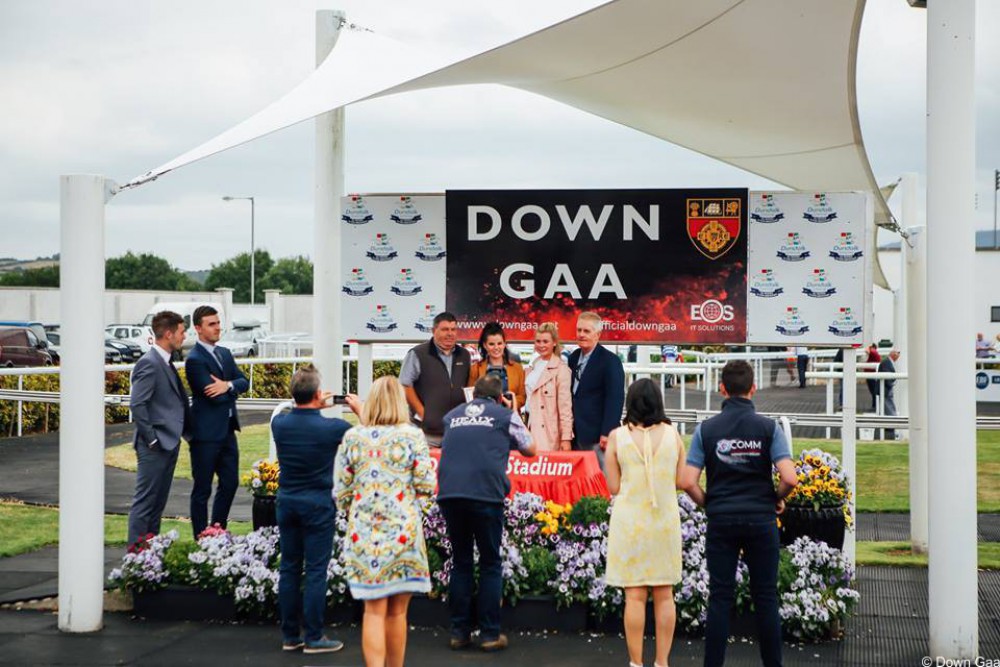 There was a bumper crowd at the Down GAA Dual race day at the Racecourse Road stadium, Dundalk on the 12th July with Droopys Verve winning the featured Dundalk International greyhound race on the night.
Glenn woman Terri Sands can look forward to a trip and shopping experience of a lifetime after being named Best Dressed Lady at Ladies Day.  She wore a Shauna Fay dress, Aimee Farrel Designs hat and Topshop shoes on the day.
Droopys Verve became the first English trained winner since John Mullins' Blonde Dino ten years earlier to win a thrilling €20,000 EOS IT Solutions International. Droopys Verve sealed his victory with a lightning start and needed every inch of that early advantage to hold off the powerful Borna Gin by a short head in a new record time of 29.39.
VIEW SOME PHOTOS FROM EVENT:
http://www.downgaa.net/gallery/event_dual_raceday2018/dual-race-day-2018
Horse Racing Results
HMT Shipping Claiming Race of €10,500.00
Eos (IRE)
Murdock Building Supplies M´dn of €12,500.00
Indianapolis (IRE)
Morgan Fuels H´cap (Rated 45-65) of €10,500.00
Beau Satchel (GB)
Highline Construction H´cap of €11,500.00
Waitingfortheday (IRE)
EOS IT Solutions H´cap of €26,000.00
Alfredo Arcano (IRE)
Down GAA M´dn of €12,500.00
Wishing Star (IRE)
O´Neill´s Sportswear H´cap (Rated 45-75) of €11,500.00
Faradays Law (IRE)
Sevens Cabs & Coaches Dundalk A6/A7 525 Final   (Grade : A6) Flat 525
MAYS KIMBERELLA
East Down GAA Divisional A4/A5 Bitch 525 Final   (Grade : A4) Flat 525
MONLEEK EXPRESS
Sentel S3/S4 350 Final   (Grade : S3) Flat 350
MADABOUT PAWS
South Down GAA Divisional Board A3 525 Final   (Grade : A3) Flat 525
ROSS SWIFT
Interiors Inc A2 Tri-Distance Final   (Grade : A2) Flat 575
EFFERNOGUE AERO
O'Neills Sportswear Open 400 Final   (Grade : SS0) Flat 400
RAINS DANNY BOY
The GAA Clubs Of Down A1 550 Final   (Grade : A1) Flat 550
DROOPYS DENNY
EOS IT Solutions Dundalk International 2018 Open 550   (Grade : AA0) Flat 550
DROOPYS VERVE
O'Hare & McGovern Ltd Open 350   (Grade : SS0) Flat 350
ROSBIRR RANGER
Down GAA Open 550   (Grade : AA0) Flat 550
CASSIES WARRIOR
Parador Lodge Belfast Open 620   (Grade : AA0) Flat 620
ASK CHUCK
Canal Court Hotel Newry Open 350   (Grade : SS0) Flat 350
BESLOW MAXIMUS