John Mitchel GFC Needs your Help
Saturday 25th November 2017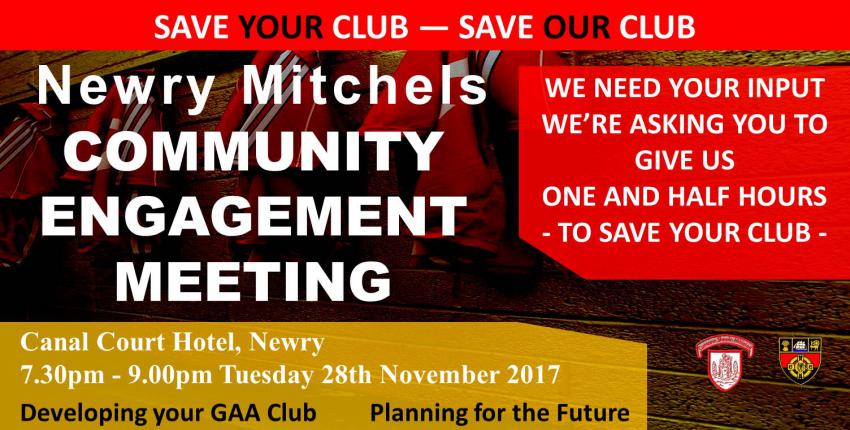 John Mitchel GFC Needs your Help
The Long Term future of John Mitchel GFC also fondly known as Newry Mitchels is seriously in doubt as we prepare for the 2018 Gaelic Football Season.
The Club currently fields only an Adult Senior Football Team in Division Four of the Down League, there are no underage teams wearing the Mitchels colours at present. All of this is a matter of concern not just to the Club but to Down GAA in a city the size of Newry, the future survival of Mitchels is vital.
A Club that was founded back in 1956 by the late great Gerry Brown and other enthusiasts holds the proud record of winning four Down Senior Football Championships in the 1960s, indeed their victory in 1968 over Bryansford is the last time a Newry Team even reached a Senior County Final. In the 60s Newry Mitchels was backboned by Seán O Neill the only Down man on the GAA team of the millennium and boasted all Ireland medal winners like Sean and Kevin O Neill as well as Val Kane amongst their ranks.
In the 1970s the Club held its own amongst the Clubs of Down winning a Junior Football Championship in 1978 and had a vibrant underage structure the envy of many Clubs with men like Arthur Ruddy and the late Seamus Faloon and Joe Cunningham nurturing under age talent. Indeed, there was a time when Mitchels could put out a Team who had all represented Down at either Minor or Under 16 level, the names like the Durkan brothers, the Ruddy's, the Carrolls, DJ Kane, Brian Conlon, Marty Lynch all outstanding players in their own rights. Stalwarts like Collie Bell, Harry Cooney and others have kept the Club alive in recent years and each year Mitchels still play host to the biggest Under Age Blitz in Ireland. Now is the time for action and with plans launched for the Southern Relief Road directly impacting on Gerry Brown Park, the future of Mitchels really needs to be secured.
The fortunes of the Senior Team in recent years has fluctuated between Division Two and Three but it is the absence of a real base and any underage talent that is the real crux. Whilst other Clubs have excellent facilities, Mitchels are deemed to be the poor relations, there are no Clubrooms, there is a pitch Gerry Brown Park which is far removed from the town centres of population. There is a constant struggle for finances with Club Fees a struggle to be met, but what is needed most is people.
The greatest asset a GAA Club can have is its people and we are appealing to the people of Newry for your help, did you ever play for Mitchels?, did you ever go to a Mitchels match?, di your son ever kick a ball in the Red and white of Mitchels? Ever have any link to this great Club? or are you interested in a project? we need your help more than ever.
On November 28th Down GAA along with Mitchels are holding a community engagement night in the Canal Court Hotel, there will be a cup of tea and a chance to input in a plan to save a Club. Your views, your ideas and thoughts are all that we want at present, can you give us your time between 7.30 and 9.00pm on the 28th to make a real difference to Gaelic Games in Newry and help preserve one of our great Clubs. We are particularly hoping too that ladies will join us on the night, more and more females are attending our games you too can play a real part in the survival of Mitchels.
We look forward to seeing you on the 28th November, we promise you that you will be finished by 9.00pm but in that time from 7.30pm, you could make a real difference, please play your part Canal Court 28th November 7.30pm.
For Further details, please contact
Declan Carolan 07858615250
Cormac Sweeney 07936223902
Malachy McKevitt 0280302062331