Tally plays it cool as Down focus on significant step up
Monday 4th March 2019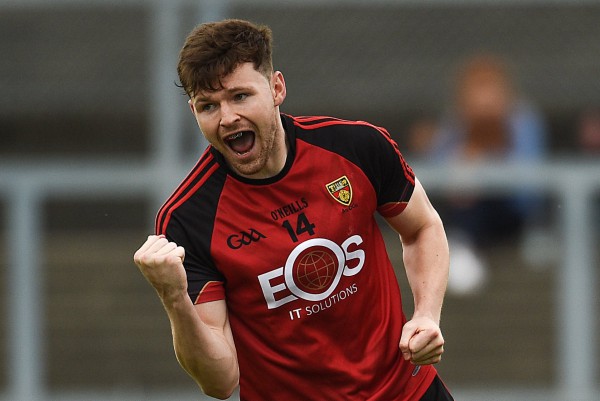 When Paddy Tally assumed the role of Down football boss at the start of this year, he was prepared to experience a transitional period in which new players would be blooded, morale might be restored and he himself would in time adjust to his new status.
But things have happened rather more quickly than anticipated. A fourth straight victory in Division Three of the Allianz Football League at the weekend, this time at Offaly's expense, has shortened the odds considerably on the Mourne side sampling life in Division Two next term.
With Carlow and Louth on the horizon as Down bid to complete their itinerary on a high, promotion is now the buzzword in a county which has been long-starved of football success.
But even after Corey Quinn's two-goal blast and a smattering of five-star performances from old guard members Kevin McKernan, Ryan Johnston, Donal O'Hare, Caolan Mooney and inspirational skipper Darren O'Hagan had underpinned an emphatic 2-12 to 0-10 win over John Maughan's Offaly, Tally was not prepared to take anything for granted.
"It has been shown that any team can beat any other side in this division so we will just try to keep winning games and see where that takes us," he maintained. "There are good sides as well as ourselves in the promotion frame."
If Down were on rather shaky ground at the interval when they led by 0-8 to 0-6, they had victory all but wrapped up by the end of the third quarter when they led by 1-11 to 0-7, Corey Quinn's first goal in the 52nd minute having jolted Offaly before his second brought them to their knees with Donal O'Hare's half-dozen points playing no small part in their eventual demise.
O'Hagan's dynamic surges from deep, McKernan's creativity in linking defence and attack and Johnston's pace and elegant ball-handling skills all ensured that the Offaly defence was kept at full stretch for the most part.
That the visitors were restricted to just four points after the break says much for Down's new-found defensive solidarity.
And if Down have cause for optimism, then there are better days ahead for Derry too. Damian McErlain's side clinched promotion from Division Four following their efficient 0-13 to 1-5 win over Limerick and will now meet Leitrim in the final even though there are fixtures to be fulfilled in the interim.
Ciarn McFaul, Shane McGuigan and Chrissy McKaigue help to underpin a side that may have made a tentative start to the league but have now sent out the message that they are suitably equipped to ply their trade at a higher level.
But for two Ulster counties in particular the weekend brought only further heartbreak.
Antrim were rather surprisingly ambushed by lowly Waterford in Division Four (1-9 to 1-8) in a match watched by just 86 spectators. Stephen Beatty's goal had offered the Saffrons encouragement but Waterford's resilience proved an enduring quality, never more so than when full-back James McGrath spooned over the winning point deep in injury time which sent Lenny Harbinson's side on a long and utterly miserable trip home.
Nor does there appear to be an end in sight to Monaghan's misery. The latest dent to Farney pride was applied by Kerry who won by 0-17 to 0-13 at Killarney, a result that leaves Malachy O'Rourke's side looking down the barrel of relegation.
They face neighbours Cavan next in what will be the ultimate relegation shoot-out and unless Monaghan rediscover the durability that has kept them rubbing shoulders with the elite they could well find themselves operating at a lower level in 2020.
Belfast Telegraph